René Vargas
Senior Business Advisor, BDC Advisory Services
With over 10 years of experience in large consulting firms and more than 15 years of experience in the high-tech sector, René Vargas brings his digital and technology expertise to business owners, senior management committees, directors and board members, senior executives and business unit leaders to create enterprise-wide digital strategies to identify opportunities and solutions that include a budget, structure and overall roadmap.
With his extensive experience, Mr. Vargas has evolved as a solutions architect, director and portfolio manager. He has worked in positions where he was responsible for developing solutions for client needs and architecture and for implementing solutions and supporting businesses in their digital transformation.
Recent posts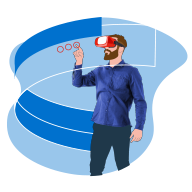 March 16, 2021 | Technology
3 pillars of a successful digital transformation
Find out why digital transformation must be based on an optimization of key processes, cultural change and information integration.
Read post