About
We build outstanding companies
Great ideas don't just turn into great companies. Entrepreneurs need sound business advice. A robust ecosystem of supporters. Financial discipline. Above all, they need smart money – investors who understand the marketplace, who share the entrepreneur's passion for innovation, who can identify the potential of a great idea and then help unlock its commercial success.
What we do and how we do it
With more than $1 billion under management and almost 30 years' experience, our venture capital investment professionals know what it takes to help Canadian entrepreneurs realize the full potential of their ideas—for themselves and for their backers.
In fact, we are the largest and most active early-stage technology venture investor in Canada, working with promising entrepreneurs and private sector investors to build outstanding Canadian companies.
The fact is: we have the financial capacity to support promising, high-growth potential technology ventures throughout their development cycle. Through patient investment and value-added support, our mandate is to help create and grow innovative Canadian companies that generate value and prosperity.
How do we accomplish this?
We begin by applying the financial rigour and focus on profitable exits that are core to venture capital best practices. In doing so, we are part of the effort to sustain and strengthen Canada's venture capital ecosystem—vital to the commercialization of innovation in this country.
Our efforts are highly targeted:
We are investing directly in Canadian tech companies to help them commercialize new ideas through three highly-focused funds in the IT, energy/cleantech and healthcare sectors.
Our Fund of Funds group is helping develop and attract a pool of top-tier private sector fund managers, who are in turn investing in Canadian technology.
Our Strategic Investments and Partnerships group is supporting startups and helping fill a gap in seed funding with an accelerator strategy and convertible note program. This group is also investing in non-traditional, emerging venture models, often with first-time teams who may not yet have a proven track record working together. This support provides these new teams and startups with much needed institutional validation.
Last, we are working closely with the Government of Canada to deploy $400 million of capital through the Venture Capital Action Plan (VCAP), working closely with our partners in the private sector.
We're proud of our successes
We're proud of our successes – winning, for instance, the CVCA's coveted Deal of the Year Award in the venture capital category four times in the past six years, for the role we played in building four Canadian success stories:
ViroChem Pharma (2009), Radian 6 (2011), Q1 Labs Inc. (2012) and Layer 7 (2014).
However, what we really take pride in is the companies we have helped build – and the entrepreneurs whose dreams we have helped realize.
Our advantage
At BDC Capital, our venture capital investment team is passionate about building outstanding Canadian companies. To help entrepreneurs turn great ideas into reality, we work as a focused, strategic partner that enables, encourages and unlocks the underlying market potential of Canadian venture companies.
A proven track record
We have been in the VC business for more than 25 years. Our venture capital team has invested in hundreds of companies, and have seen them through the full venture capital cycle of seeding, nurturing, and harvesting. For four of the past six years, BDC Capital has received the prestigious Deal of the Year award from the Canadian Venture Capital Association in 2009. 2011. 2012 and 2014.
Unparalleled team and expertise
BDC Capital helps entrepreneurs grow successful companies by providing ongoing advice and support from our team of seasoned investment professionals, selected for their technological expertise and industry experience in areas such as sales, marketing, business development, production, and R&D. We can assist with strategic direction, senior executive hiring, commercialization, and fund-raising initiatives. We will also actively participate on a company's board, while providing access to our cross-country network of investee companies and other business contacts.
Local assistance with national and global perspective
We are one of the few Canadian venture capital players to have investment professionals in most major Canadian markets, supported in turn by BDC's own network of over 100 business centres. Meanwhile, our team of investment professionals maintains key relationships in the global VC and technology industries. Our extensive reach lets entrepreneurs benefit from our contacts coast to coast – and from our global perspective.
A committed investor
Our approach is to get involved at the beginning of a business venture - the seed stage - and stay involved, often until later stages such as pre-IPO rounds. Our goal is to realize excellent return on our investments by creating value for all shareholders.
Financial capacity
We understand that unlocking the value of an idea – through cash flow autonomy, a strategic acquisition, or an IPO – takes time and, often, repeated investment. As a stable, long-term investor, BDC Capital has the financial capacity to support promising, high-growth technology ventures throughout their development cycle.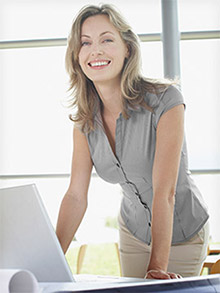 Despite the risks associated with investing in early-stage companies, we always strive to generate excellent return on our investments.