Customized financing solutions to support your growth
Choose from a full range of financing options such as mezzanine, cash flow and quasi-equity financing—all designed to keep vital cash flow in your rapidly-growing company, without diluting ownership.
Learn more about our customized financing solutions
Projects we can provide financing for
Our clients
See why entrepreneurs from across the country trusted our Growth & Transition Capital experts. Hear what our clients have to say.
Meet our clients
Our team
Our financial experts know your local market, understand your business needs and can provide sound advice on the right financing solution for your company. Get to know our team and choose the expert in your region who can give you the guidance you need.
Find your local expert
Report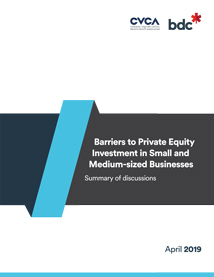 Take a look at our summary of discussions from CVCA's and BDC Capital's Growth & Transition Capital roundtables, which highlights the needs of small and medium-sized Canadian businesses with regard to private equity investments.
News
Calgary's Pandell Technology Corporation secures BDC Capital financing to maintain leading market position during pandemic
Pandell Technology Corporation ("Pandell") of Calgary, Alberta has secured non-dilutive ...
Learn more
R-Hauz

Solutions Inc. Secures $4.5M in Seed Funding

R-Hauz secures funding to increase capabilities in product delivery and technology, invest in supply chain expertise and expand ...

Learn more
View all news
Some links may lead to external sites available in French only.