Why work at BDC?
Join BDC. Come bank at another level.
Because BDC is not just another bank. It is dedicated exclusively to the development of Canadian businesses. BDC is banking at another level, with 2,900 employees serving more than 95,000 businesses.
Use your talent and creativity to help Canadian entrepreneurs succeed.
Whatever your field of expertise, we are always on the lookout for new talent. If you want to take the great BDC mission further and grow in an institution that is constantly evolving, we want to know you. Come bank at another level.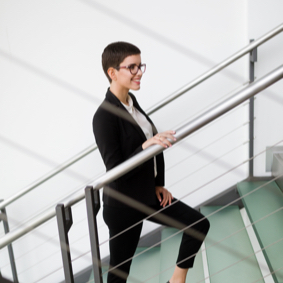 1
Number of minutes it will take you to apply
16
Number of years on Canada's Top 100 Employers list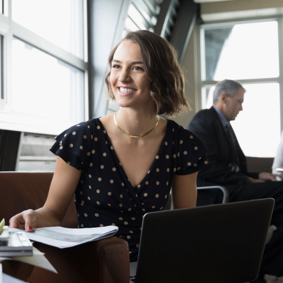 8
Years of employment at BDC is the average for our entire workforce
1. Making a difference by supporting Canadian entrepreneurs
Our mission is one that only BDC can accomplish. We support the growth of Canadian SMEs, and we do so with boundless pride. Our approach is based on tailored support, providing our clients with financing, capital and expert advisory services. By joining our team and our great community, you will have the opportunity to use your unique skills to their full potential to pave the way for entrepreneurs who are, them too, determined to build a better world.
2. Think of your career as would an entrepreneur
BDC gives you the space you need to grow and consider all the avenues of professional development that appeal to you. Your ambitions are our ambitions, we want to see you grow. You will have access to workshops and communities of practice, and you will be able to use your smartphone at any time to learn a little more on the go. BDC is the place to find innovative, accessible technologies, that make us bank at another level.
3. Live the work-life integration
We have designed a solid integration for our new talent, so that we may guarantee them a healthy work-life balance. Our working conditions are market-leading, and our benefits are flexible, competitive and contemporary. We exceed market expectations with every new trend that emerges.
Our hybrid work model, combining work from home and office presence, reflects the reality of each team and their respective workloads, mandates and needs. The concept is to offer an employee experience based on the principles of flexibility, equity and conviviality. The office is positioned as the center of business activities, and work from home remains an option. Remain confident that we have our sights set on our market-leading work-life balance.
Read our blog post to know more about our flexible work model
4. Be part of a winning, diverse team
Diversity is one of our priorities. You'll be part of a dynamic team that lets you turbocharge your career by going beyond the limits of industry best practices.
BDC was Canada's first financial institution to obtain the B Corp certification. To be certified, a company needs to meet high standards of purpose, social and environmental performance, transparency, and accountability.
Join our team today
Our employees are passionate about their work and enjoy working with us.
We firmly believe that you will too.