BDC blog
Growth & Transition
Our Growth & Transition Capital team works with business owners like you every day. They use their experience, market expertise and local knowledge to guide entrepreneurs through their company's lifecycle.
Whether it's helping you pursue a growth opportunity for your business or guiding you through a business transition, our Growth & Transition experts are here to support your project and put you on the fast track to success.
Recent posts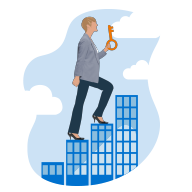 June 17, 2021 | Growth & Transition | Charles Blouin and Kyle Feucht
I'm not a SaaS company: How do I finance my growth?
Discover how to finance IT service companies, traditional software companies, e-commerce companies, tech-enabled service companies and content producers.
Read post