Stay connected to your finances
Securely manage your BDC account, keep track of your financial health and set clear goals to improve your business. BDC Mobile gives you the personalized tools and insights you need to make smart financial decisions.
Available on iOS 13 and later versions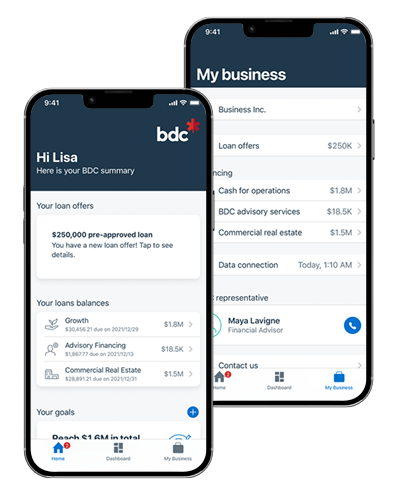 A handy tool for clients
Simplify your BDC banking
Always have the BDC information you need right at your fingertips:
See if you qualify for a pre-authorized loan

View your loan activities and repayment schedule

Check for updates on your BDC account
Join our group of testers
Test the app as we add new features to help us make sure it's adapted to your needs.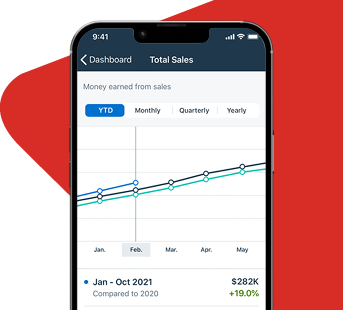 With BDC Mobile, we can compare our business performance with industry benchmarks, which ultimately helps us sharpen our competitive edge.
BDC Mobile enables me to quickly access financial data right from my Smart Phone. I give it a
thumbs-up!
What I love about BDC Mobile is that you can get a quick snapshot of where you are financially, at your fingertips. That's invaluable for our business!
Take the guesswork out of growing your business
Stay informed
Find all the info you need to manage your account in one place.
Track
Monitor up to 13 KPIs to keep track of your business's financial health.
Measure
Set goals and recieve suggestions to reach them.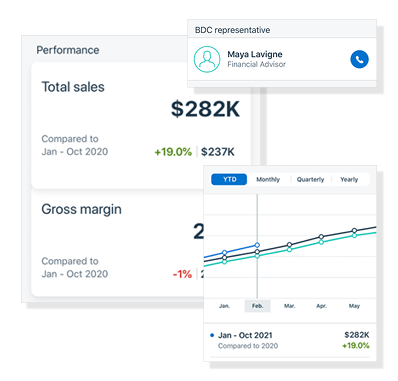 Set business goals
Know if your efforts are paying off
Define measurable goals for your business:
Get reminders to help you stay on track

Change goals and target dates as the situation changes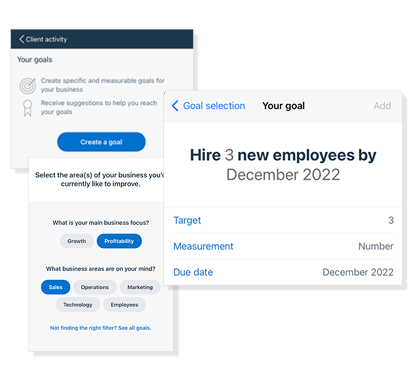 Take action
Know what your next step should be
Make informed decisions to help your business thrive:
Enter goals for underperforming areas and get suggestions on how to reach them

Get suggestions from the app on how to reach your goals

Connect with your BDC representative to discuss ways to reach goals sooner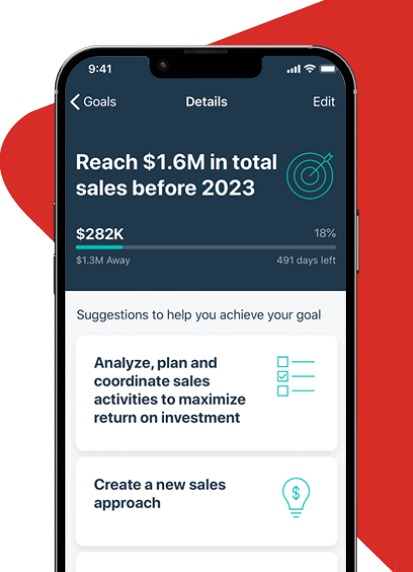 What you'll love about BDC Mobile
Keep an eye on your BDC account wherever you are

Receive content of interest to your industry and your business

Connect your QuickBooks or FreshBooks to see your monthly key KPIs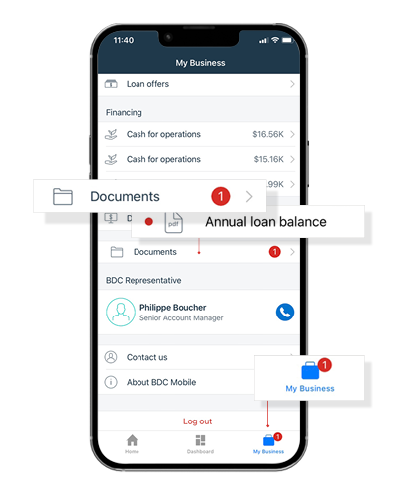 New in BDC Mobile
Your annual loan balance
Download your annual loan balance and see your year-to-date interest paid.