We understand the challenges of feeding your growth
You want to grow your business but it's hard to find the cash you need to develop new products, expand your facilities, or get accredited for exporting. Even if you do expand your market and production capabilities, labour shortages mean you may need to consider digitization to meet the increase in demand. We can help you break through the barriers and seize the next big opportunity.
Solutions for your industry
Financing tailored to your needs
Access working capital to invest in R&D
Invest in technology to automate processes
Modernize facilities to remain competitive
Advisory services to run a better business
Boost operational efficiency
Develop a sales and marketing strategy
Comply with industry regulations
Contact us for more information.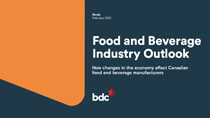 STUDY
Food and beverage industry outlook
How changes in the economy affect Canadian food and beverage manufacturers.