Canadian Food and Beverage Industry:
2022 Outlook
Following a record year in 2021, the Canadian food and beverage (F&B) industry is expected to grow by more than 11% by the end of 2025.
Despite this positive outlook several factors will continue to challenge F&B manufacturers:
Rising costs: 57% of F&B manufacturers are reporting difficulties coping with inflation.
Labour shortages:  78% of manufacturers are struggling to hire.
Low levels of digitization: Just 46% of Canadian food processors are investing in advanced or emerging technologies.
Find out how you can stay ahead of these challenges to take advantage of the positive outlook for the sector.
Get a free copy of this insightful report.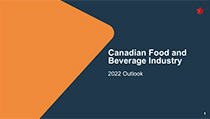 Fill in the form to get your study.
It's 100% free.