BDC blog
Leadership
Effective leadership helps you build an engaged and high-performing team. Discuss with our experts to find new ways of developing your skills to manage and motivate your employees. It can mean the difference between a successful business and a failing one.
Recent posts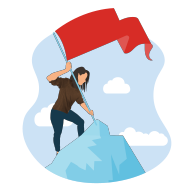 April 27, 2022 | Leadership | Annie Marsolais
Why I am cautiously optimistic for entrepreneurs' mental health
in 2022
Publishing in April 2022, our fourth mental health study on entrepreneurs' mental health shows mixed results.
Read post