BDC blog
Money and finance
Effective financial management will help keep your company running smoothly. Discover our experts' insights on how to strengthen your financial health in order to improve your business decision-making and grow more profitably.
Recent posts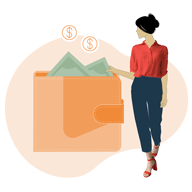 January 05, 2022 | Money and finance |

Mallory McKewen
What's the difference between lenders and investors?
Learn how to modify your pitch for an investor and a lender to ensure you have the cash you need to grow your company.
Read post