BDC blog
Social Entrepreneurship
Many entrepreneurs in Canada and around the globe are taking a new approach to business that puts the emphasis on making a positive difference in the world. These companies have activities that are socially or environmentally beneficial as an integral part of their business model. Discover how you can become a social entrepreneur and have a positive impact on your community.
Recent posts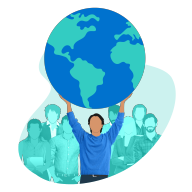 August 07, 2020 | Social Entrepreneurship | Craig Ryan
The Rise of Local: 'Hopeful Monsters' Win!
A local supply chain, a local team and an efficient website could be a winning combination in a world transformed by COVID-19.
Read post