BDC blog
Social Entrepreneurship
Many entrepreneurs in Canada and around the globe are taking a new approach to business that puts the emphasis on making a positive difference in the world. These companies have activities that are socially or environmentally beneficial as an integral part of their business model. Discover how you can become a social entrepreneur and have a positive impact on your community.
Recent posts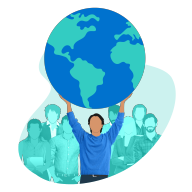 December 12, 2022 | Social Entrepreneurship |

Sandra Odendahl
Sustainability and your bottom line: More related than you might think
Learn to drive results and take action to improve your performance with sustainability.
Read post