BDC blog
Social Entrepreneurship
Many entrepreneurs in Canada and around the globe are taking a new approach to business that puts the emphasis on making a positive difference in the world. These companies have activities that are socially or environmentally beneficial as an integral part of their business model. Discover how you can become a social entrepreneur and have a positive impact on your community.
Recent posts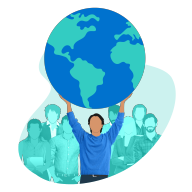 August 09, 2021 | Social Entrepreneurship | Susan Rohac and Tony Van Bommel
Create a carbon strategy to gain a competitive advantage for your business
Taking a leadership role in the fight against climate change can help carve out a competitive advantage for your business. Learn how to do it.
Read post