BDC blog
Social Entrepreneurship
Many entrepreneurs in Canada and around the globe are taking a new approach to business that puts the emphasis on making a positive difference in the world. These companies have activities that are socially or environmentally beneficial as an integral part of their business model. Discover how you can become a social entrepreneur and have a positive impact on your community.
Recent posts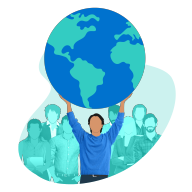 August 07, 2023 | Social Entrepreneurship |

Sylvie Ratté
ESG in Canada: What the data tells us
ESG practices are more important than ever. Find out how to start integrating them into your company.
Read post