BDC blog
Economic perspective
For many Canadian entrepreneurs growing their business is part and parcel of the life cycle of their company. However, there are many economic factors that can impede and slow down that growth.
Our economic team sets out to provide entrepreneurs with a pertinent analysis, while helping interpret economic trends and their impact on your business.
Recent posts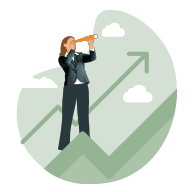 November 25, 2020 | Economic perspective | Pierre Cléroux
2021 economic outlook: Playing
catch-up
Strong consumption and a rebound in exports will give the economy a boost sufficient to return to growth in 2021.
Read post