Alka Sood
Senior Business Advisor, BDC Advisory Services
Alka Sood is a senior consultant and entrepreneur with over 25 years of experience providing financial management, strategic planning and organizational development advice to businesses of all sizes. Her focus is on empowering entrepreneurs with knowledge, skills and management tools to independently implement improvements that have a positive and lasting impact on their businesses. Key elements of her approach include: Building financial literacy expertise and developing professional practices and skills.
Recent posts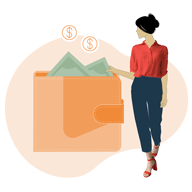 November 13, 2020 | Money and finance
Cash flow management strategies for the second wave of
COVID-19
The rise in coronavirus cases has created uncertainty once again. Find out how you should you manage your finances to ensure the continuity of your business.
Read post