Canadian Entrepreneur Mental Health and
Well-Being

Report:

November 2020

How has the COVID-19 pandemic affected the mental health of Canadian entrepreneurs? To find out, BDC surveyed 500 entrepreneurs to better understand their ability to cope with the crisis as well as their largest sources of stress and worries.

We find that while 64% of entrepreneurs reported having their business situation under control, close to two-thirds also reported feeling tired and unenergetic at least once a week.
Find out
What the top sources of stress for Canadian entrepreneurs are.
Which groups reported the most mental health and wellness challenges.
Insights from a panel of experts to better understand the results of our survey.
Plus, five tips to combat the negative effects of the pandemic on mental health.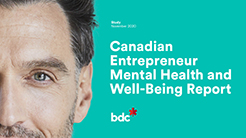 Get your free copy of the report