ESG in Your Business: The Edge You Need to Land Large Contracts
What impact does adopting ESG practices have on suppliers' ability to land large contracts?
To find out, we surveyed more than 100 major buyers and 1,200 suppliers to understand the impact that ESG practices have on procurement and the trend that is emerging for the coming years.
The results indicate not only that a majority of major buyers impose ESG requirements on their suppliers, but also that this trend will grow in the coming years.
The good news is that businesses that adopt ESG practices will reap the benefits. Under the circumstances, and despite certain costs, the vast majority of Canadian suppliers that incorporated some of these criteria consider it to be beneficial to their business.
Download our study to learn more and find out what these results mean for your business.
Discover
Which ESG practices are most important to major buyers.
How responsible procurement will affect suppliers in the coming years.
Tips on how you can incorporate ESG practices into your business.
Get your free copy of the study: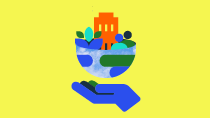 Fill in the form to get your study.
It's 100% free.