Top Consumer Trends in Canada
How have the values and habits of Canadian consumers changed in the wake of the pandemic?
To find out, we surveyed 1,983 Canadian adult members of the Angus Reid Group's consumer panel and 759 leaders of small and medium-sized businesses.
The results show that companies offering a seamless customer journey, good value and demonstrate sustainable business practices are better equipped to secure the loyalty of discerning consumers.
Learn what it means for your business and how you can adapt your goods, services and corporate practices to better meet consumer demands.
Download our study for insights about how to win the loyalty of Canadian customers.
Discover
Three emerging trends that are changing how Canadians purchase goods and services.
How expectations and purchase priorities vary among different generations, from

Gen Z

to Baby Boomers.

Real-life

case studies of businesses that have found ways to offer tailored products and services that meet the changing needs of Canadian customers.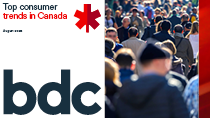 Fill in the form to get your study.
It's 100% free.