Investment Intentions of Canadian Entrepreneurs: An Outlook
for 2021
Are Canadian entrepreneurs planning to invest more or less in 2021? How are they feeling about current economic conditions?
After a difficult year in 2020, Canadian business confidence is on the uptick, despite a highly uncertain environment.
This is one of the main results coming out of BDC's latest survey of more than 1,000 small and mid-sized business owners about their investment plans for 2021, their confidence in the economy and their sales outlook.
Find out
How confident entrepreneurs are feeling about the economy
The hiring and sales outlook of Canadian entrepreneurs

for 2021

Which businesses are planning to invest and what they plan on purchasing
The investment outlook across Canadian regions
Access the study now!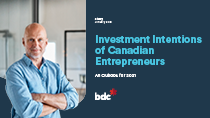 Fill in the form to get your study.
It's 100% free.