Investment Intentions of Canadian Entrepreneurs: An Outlook for 2017
Renewed optimism on the part of entrepreneurs is felt across Canada.
For the second consecutive year, BDC is presenting the results of its study of Canadian entrepreneurs' investment intentions. This study paints a portrait of the investment plans for 2017 of almost 4,000 business owners. It summarizes the owners' views on the amounts to be invested, their motivations and the factors that may slow their momentum.
Private sector business investments are one of the main drivers of economic growth in Canada. Did you know that 99.8% of Canadian businesses are small or mid-sizes enterprises?
Get your free copy of the study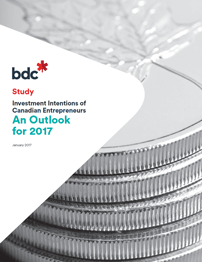 Fill in the form to get your study.
It's 100% free.