Investment Intentions of Canadian Entrepreneurs: An Outlook for 2016
Investments are key for companies that wish to grow and stay competitive. More often than not, growth strategies require an investment program.
Thus, the investment intentions of small and medium-sized businesses are a significant indicator of Canada's economic vitality, since they represent 99.8% of all Canadian firms.
This BDC survey is the first study of its kind in Canada designed to show what executives of small businesses are planning for investment projects both in terms of the sums of money and the motivations and constraints that are holding them back from investing.
Get your free copy of the study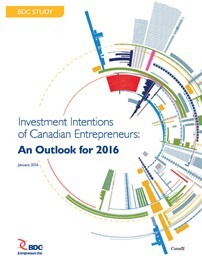 Fill in the form to get your study.
It's 100% free.