Canada's Venture Capital
Landscape 2022
Canadian venture capital (VC) has come into its own during over the last five years, garnering increasing interest from both Canadian and international investors.
This long-term trend culminated in 2021, when average deal size, total investment and the total number of deals all reached record highs. 10-year returns to investors are now at an all-time high of 14%, while median exit value jumped to $90 million. It was also a record year for VC-backed initial public offerings (IPOs), with 12 VC-backed Canadian companies going public.
The 2022 edition of Canada's Venture Capital Landscape report outlines evidence of this significant progress made and the work still remains to maintain this momentum.
You'll find out
Why Canadian VC is increasingly attractive for both national and international investors.
Deal volume, average deal size, transaction values and capital deployment in the Canadian VC sector.
Overview of Canada's active VC funds by sectors and investment activity breakdown
Note that a more recent report is available here: Canada's Venture Capital Landscape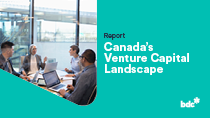 Get your free copy of the report