2021 Food and beverage industry outlook
How changes in the economy affect Canadian food and beverage manufacturers
Canada's food and beverage industry is an essential part of the economy with over 7,800 companies employing almost 300,000 workers. The sector has huge growth potential, but entrepreneurs will have to be innovative and invest to remain competitive.
Discover how changing market dynamics are affecting this industry:
Post-pandemic growth is expected to be strong at 15.6% over the next five years.
A consumer shift to healthier food

is forcing processors to be more innovative.

Exports represent a third of the industry's output but diversifying markets remains a priority.
Labour shortages and a need to invest are important challenges.
Plus, learn about trends and opportunities that can help manufacturers stay ahead in the current downturn.
Get a free copy of this insightful report.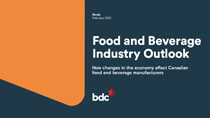 Fill in the form to get your study.
It's 100% free.