Investment Intentions of Canadian Entrepreneurs: An Outlook for 2018
What are entrepreneurs' investments plans for 2018?
Investments by small and mid-sized businesses are critical to the health of the Canadian economy. Businesses that invest more experience stronger growth and are more competitive. BDC surveyed more than 4,000 Canadian business owners to learn how much they intend to invest, what motivates their investments and what may change their plans this year.
Find out:
How the economy is impacting investment plans across Canada
How much Canadian entrepreneurs plan to invest this year
The top projects entrepreneurs are planning
What challenges they must overcome to invest
The investment picture in different sectors and regions
How entrepreneurs intend to finance their projects
Get your free copy of the study!
No time to read the full report? No problem. It comes with highlights and many easy to read charts.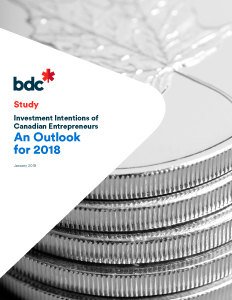 Fill in the form to get your study.
It's 100% free.