Measuring BDC's Impact on Its Clients (2008-2012)
To find out whether its services contributed to its client businesses' success, BDC asked Statistics Canada to carry out an independent and measurable evaluation of its impact on the performance of these businesses. In particular, the Bank gave Statistics Canada the mandate to measure BDC's impact on the clients it had assisted in 2008 and 2009—during the Great Recession—and over the two years of recovery that followed, in 2010 and 2011.
This report documents the main results from Statistics Canada regarding the performance of BDC's clients compared with that of similar businesses that were not BDC clients.
The analysis shows that clients that received financing and advisory services from 2008 to 2011 saw their annual sales grow 7.5 percentage points more than those of non‑clients during the subsequent period from 2009 to 2012.
Get your free copy of the study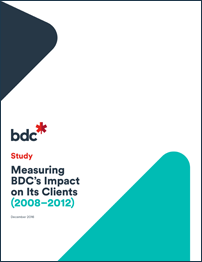 Fill in the form to get your study.
It's 100% free.