Buying a business: A winning strategy for purchasing another company in Canada
Purchasing a business is an effective way to rapidly growth your company. But what can you do to improve your chances of getting the full benefits when making an acquisition?
BDC surveyed 1,038 entrepreneurs to understand the challenges they face when acquiring a business and help them achieve better outcomes.
Find out:
The right steps to follow to increase your chances of success when buying a business
Why entrepreneurs buy other businesses
The most common issues, problems and challenges faced by entrepreneurs when buying a business
How to integrate two businesses following an acquisition
Get your free copy of the study!
Access reliable economic analysis and insights to make better business decisions.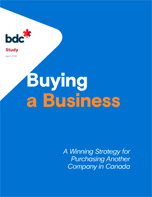 Fill in the form to get your study.
It's 100% free.