Technology Industry
Outlook 2021
Economic insights to help grow your tech business
Canada's more than 41,000 technology firms are at the centre of a post-pandemic economy that will increasingly rely on remote work, online commerce, e-learning and automation to compete globally.
Discover what the economic recovery looks like for Canadian tech companies and find out:
Projected growth trends for the next

3 years

Which tech services will see increased demand
How to position your firm to take advantage of the recovery
Get a free copy of this economic report
(Please note that this is the 2021 report. Follow this link to download the most recent Technology Industry Outlook.)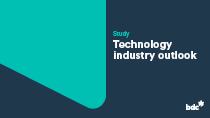 Fill in the form to get your study.
It's 100% free.