Exporting: A Key Driver of SME Growth and Profits
Businesses that export tend to be more productive, more profitable and pay higher wages than companies focused entirely on the domestic market. But how do you know if you are going to be successful once you decide to take your business abroad?
This report outlines the findings of a recent BDC survey on the export strategies of more than 700 small and mid-sized Canadian businesses. Read it to:
Discover the three key attributes shared by the most successful small and mid-sized exporters
Find out what entrepreneurs who export say about what drives their success
Learn about strategies you can put in place to achieve your export goals
Want to know more? Read this one page summary.
Get your free copy of the study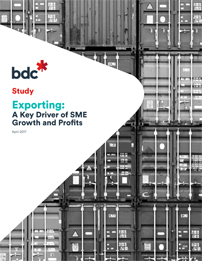 Fill in the form to get your study.
It's 100% free.