Expand Online
Strategies to Boost Sales, Profits and Exports
A strong online presence drives growth. What digital strategies will you use to grow your business online and expand into new markets?
BDC surveyed almost 1,500 business owners with national or international activities to better understand their online presence and how they use Internet to grow their businesses.
Find out:
Key online practices to expand your business and boost your sales
Top challenges of growing your business online
How much Canadian entrepreneurs spend on online activities
Get your free copy of the study
No time to read the full report? No problem. You'll also receive a fact sheet with key highlights.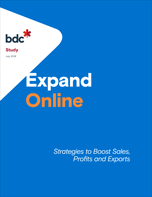 Access to the study will be emailed to you.