The Coming Wave of Business Transitions in Canada
Are you ready to exit your company?
Entrepreneurs need to plan their business transition well in advance to get top dollar value for their companies when they sell. BDC surveyed over 2,500 entrepreneurs to find out how well prepared they are to sell their businesses, their attitudes towards growth and risk, and why it's important for them to make their businesses more attractive to buyers.
Find out:
Why investing in your business is critical when planning to sell
How a healthy cash flow helps maximize the value of your business
Why sound financial reporting makes good business sense

6 tips

to maximize the value of your business

4 steps

to a successful business transition
Plus, read the success stories of how Canadian entrepreneurs are passing on the torch.
Running a business with 20 employees or more? Read what our study reveals for these entrepreneurs.
Get your free copy of the study
No time to read the full report? No problem. You'll also receive a factsheet with key highlights.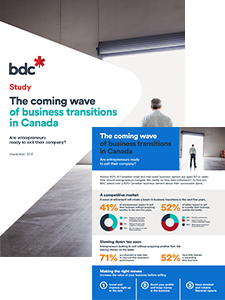 Fill in the form to get your study.
It's 100% free.