Canada's Venture Capital Landscape 2017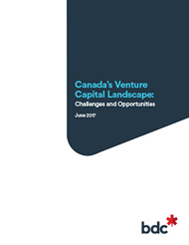 This Venture Capital Landscape Paper is meant to represent an in-depth review of the current state of Canada's VC sector. It was drafted based on the premise that the VC markets in Canada today remain somewhat opaque, and that BDC, in its position as the most active VC investor in the country, was uniquely positioned to offer insight into the state of the industry.
Some of the highlights of this report include:
The VC industry has made excellent progress over the last five in recent years;
Despite positive trends, a difficult exit landscape remains a persistent challenge;
The root causes of Canada's scaling issue are mainly around the smaller average size of VC funds, as well as the low degree of corporate involvement;
Therefore, the two key challenges the ecosystem must tackle to reinvigorate growth are:

Closing financing gaps, especially in large,

late-stage

rounds.
Have corporations play a stronger role.
The industry has made substantial progress in recent years. We hope this report will contribute to your understanding of where we stand today and the opportunities and challenges that lie ahead as we continue to build on this momentum.