Investment Intentions of Canadian Entrepreneurs: An Outlook for 2019
What are entrepreneurs' investment plans for 2019?
Investment matters. The more an entrepreneur invests in his or her business, the more competitive it becomes. When entrepreneurs invest in their businesses, they make an important contribution to Canada's economic growth.
BDC surveyed more than 4,000 small and mid-sized business owners about their investment plans for 2019, their motivations for investing and the factors that may change their plans.
Find out:
How the economy is impacting investment plans across Canada
How Canadian businesses are shifting the way they invest
How the labour shortage is affecting investment
How investing in new technologies will impact businesses
What sectors lead investment intentions
Get your free copy of the study!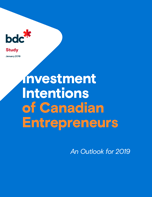 Fill in the form to get your study.
It's 100% free.