Industry 4.0: The new industrial revolution
Are you ready for the fourth industrial revolution?
Industry 4.0 is here and it's revolutionizing the way manufacturers are doing business. BDC surveyed 960 Canadian entrepreneurs to report on their use of digital technologies, the lessons and best practices they've learned so far and what advice they have for other manufacturers.
Find out:
What is Industry 4.0?
How digital technology is dramatically improving productivity, growth and product quality for Canadian manufacturers
Why it's important to start investing in this area right now
4 tips for getting your business started with digital technologies
3 ways to introduce digital technologies into your manufacturing business
Plus, read 3 success stories of Canadian manufacturers who are transforming their business with new digital technology.
Get your free copy of the study
No time to read the full report? No problem. You'll also receive a factsheet with key highlights.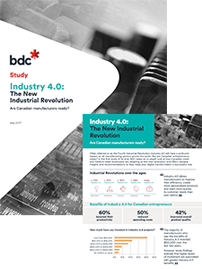 Fill in the form to get your study.
It's 100% free.