A Transformation in Progress
How Canadian Entrepreneurs Are Taking on the Environmental Challenge
Protecting the environment is one of the great challenges of our time.
To gain a better understanding of how Canadian businesses are responding to this challenge, BDC conducted two surveys with more than 1,500 entrepreneurs and 1,000 Canadian consumers. Learn what environmental practices business owners have implemented, as well as what motivates them and the challenges they have encountered along the way.
Discover
What percentage of Canadian businesses have taken steps to reduce the environmental impact of their operations.
The main challenges Canadian entrepreneurs face in implementing sustainable practices.
Concrete actions you can take to further your environmental efforts.
Access the study now!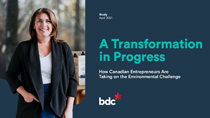 Fill in the form to get your study.
It's 100% free.