Champion entrepreneur says sales are the hardest part
3 minutes read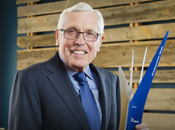 The name Gerry Pond is virtually synonymous with innovation in Atlantic Canada. Yet, this leading entrepreneur says innovation isn't the biggest hurdle for Canadian business owners. It's selling their ideas.
Pond, who is the first recipient of BDC's Entrepreneurship Champion award, has been called the Steve Jobs of the Maritimes. He's co‑founder and chairman of Mariner Partners, one of the largest independent technology companies in the Atlantic region.
He's also helped found an impressive list of successful technology companies, including Radian6, Q1 Labs and Cirrus9, as well as three start‑up accelerator centres in New Brunswick.
Sales is the hardest part
"It's not innovation that's hard," Pond says. "It's taking innovation into the marketplace. That's the part that isn't taught in school."
BDC's Entrepreneurship Champion award is just the latest recognition Pond has received during his long career. The BDC award is given to a Canadian entrepreneur who has made a substantial contribution to the country's prosperity.
Pond, 70, former CEO of NBTel, enjoys giving back to the community by advising young entrepreneurs. One of their most common challenges, he says, is a lack of sales expertise, particularly in international markets.
You need to get out there and sell
Many young business owners wrongly think their product or service will just sell itself. In fact, he says, someone needs to get out there and sell it.
"Selling is the most overlooked, underappreciated skill set in business today, particularly in start‑ups," he says. "Creating your product is probably the easiest thing you're doing. Selling is the hard part, especially selling to people from different cultures and languages, which is vital in today's world."
Pond says another common problem that derails many new businesses is "founder break‑up"—disputes among company partners that can result in dissolution.
A solid team is critical
Most successful start‑up companies are built around a solid team, Pond says. "Teams generate success. But dormitory drinking buddies don't necessarily make a good team."
A company's cofounders should be compatible with each other, self‑reliant but also able to rely on each other, Pond says. He calls this ideal relationship "interdependence," as opposed to dependence or independence.
Successful companies have it not only among co‑founders, but also key employees and other partners, he says.
Ride the rollercoaster
A final piece of advice for entrepreneurs from Pond is to stay focused and determined.
"A business is like a rollercoaster. It has ups and downs that are so fast it can make you sick. But if you understand it goes up again, it's easier to take the down side."
When everything looks out of control and bills aren't being paid, it's normal to get depressed, he says. But entrepreneurs must "reach in for their inner strength. This is about that fibre inside you, controlling your emotions and taking responsibility."
The inner game of business
This mental game is one of the hardest parts to master in business. And it happens to be key to successful entrepreneurship, Pond believes.
"Ideas and innovation are easier. Most people have a lot of ideas. What is hard to do is start from scratch and turn ideas into a business."