Digital maturity assessment
Length of survey: 6 minutes
Did you know that companies with a higher level of digital maturity enjoy higher sales growth and resilience than their peers?
Use our free Digital maturity assessment to find out where you stand and how you compare with your industry peers, as well as to identify areas for improvement.
Once you get your results*, you can download a detailed, printable report containing recommended readings and information on best practices.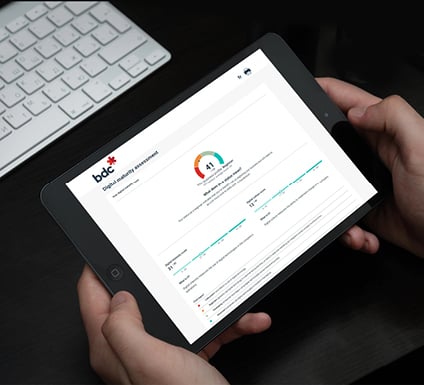 3 reasons to assess your company's digital maturity
identify your current level of digitization
compare your digital maturity to your industry peers
discover your potential for improvement
The data used in this Digital maturity assessment comes from a national survey of more than 1,500 Canadian small and mid-sized businesses.
Frequently asked questions
What is the Digital maturity assessment?
BDC's Digital maturity assessment evaluates the digital maturity of a business on two different but related dimensions: Its digital intensity and its digital culture*.
Digital intensity measures the use of digital technologies in the company's operations. Key factors include:
the use of digital tools to interact with customers, partners or suppliers
the collection and use of data to make decisions
the digitization and integration of business processes
Digital culture measures the ability to implement change in the company. Key factors include:
a strong digital strategy and vision
support from leaders
appropriate planning
establishing an environment that rewards risk taking and collaboration
a focus on training and continuous learning
Note: * These two dimensions are split into six areas, and the sum of the areas determine the digital maturity level of a company. Download our study to learn more.
What is the Digital maturity assessment based on?
BDC's analysis follows a methodology developed by the Massachusetts Institute of Technology (MIT) to investigate the relationship between digital maturity and financial performance.
In collaboration with Capgemini Consulting, the MIT Centre of Digital Business developed a digital maturity model. The goal was to investigate the relationship between each stage of a company's digital maturity as it relates to revenue generation, profitability and market valuation. The model evaluates companies on two dimensions: Digital intensity and transformation management intensity.
The study showed that investing in digital technologies drives revenue, but transformation management capabilities drive profits. After studying 400 large companies over two years, they found that intensive use of digital technologies was not enough for a business to become more profitable; businesses must appropriately manage these assets to gain a real advantage. They concluded that businesses with higher digital maturity outperformed less mature firms on multiple financial measurements.
Since our last economic study on digital maturity published in 2018, and while staying aligned with the MIT model, our methodology has been adapted to reflect the evolution of Canadian SMEs over the past three years. We have also integrated the development of new technologies, such as cloud computing and the Internet of Things (IoT), as well as cybersecurity, which are changing the game.
Source: The six axes of the digital maturity model of the BDC Advisory Services team are based on their field experience and are inspired by the TM Forum (2020) model.
Where does the benchmarking data come from?
The data used to build the benchmarking tool comes from a survey of 1,500 Canadian businesses. The survey was carried out between November 12 and December 3, 2021. The results were weighted by region and size of business to ensure findings were representative of Canadian small and mid-sized companies as a whole.
Why is my benchmarking group different from what I selected?
For some industries and company size, the survey did not produce enough observations to create reliable comparison groups at the industry level. In these cases, similar industries were combined to generate enough observations to create a benchmarking group.
How will BDC be using the data I provided?
The information you provide in this questionnaire will be kept confidential and used by BDC for the purpose of the assessment and for data analytics. Your information will not be disclosed to third parties.
Can BDC help my business improve its digital maturity?
* Confidentiality: The information you provide in this questionnaire will be kept confidential and used by BDC for the purpose of the assessment and for data analytics.
Notice
This Digital maturity assessment is offered free of charge, on an as-is basis, without warranties. Technical assistance is not provided.
BDC makes this tool available on its website to aid Canadian businesses in assessing their digital maturity profiles. Use of the tool should not be construed as an endorsement or verification by BDC of the accuracy of your business plan. BDC is not responsible in any manner for direct, indirect, consequential or special damages, however caused, arising from your use of this tool.