Digital shift brings growth for AS Hanging Display Systems
Company's website is its sole sales channel with only a few exceptions
4-minute read
AS Hanging Display Systems has a new transactional site that makes the buying process even easier for its clients.
The website redesign, completed in 2018, required a significant investment and was its most ambitious to date. This digital thrust was necessary for continued growth, said Walter Moncade, president of the company that specializes in the sale of hanging and display solutions for art works and other objects.
Online sales help increase market share
"We now have a fully integrated platform that, among other things, allowed us to automate order processing," he explained.
"We also rethought the site architecture to provide a better user experience. We added a 'shop by inspiration' tab to showcase clients' installations. Buyers simply click on the various products they are interested in to proceed with the purchase."
The Québec company does almost all of its sales online. The strong web presence allows it to increase its market share yearly and to position itself favourably on a global scale with its competition.
With an even stronger digital strategy, it aims to increase its market share five to 10 percent. Approximately 70% of sales come from the United States and the rest are from Canada.
A new BDC study, Expand Online: Discover Digital Strategies to Boost Sales, Profits and Exports, found that having a strong online presence drives growth. The study found more than half of respondents (55%) have built their market expansion strategy on top of their online strategy. They tend to have outperformed those that did not do so.
Digital shift yields results
Since it was founded in 1985, AS Hanging Display Systems has completed more than 40,000 residential, commercial and institutional installations. In the early 2000s, the company started seeing a change in market trends and embarked on a digital shift towards online sales.
This timely transformation made it possible for the company to respond to its clients' new buying habits.
"We still have a few clients who place their order by telephone; everyone else orders electronically," said Moncade, whose company is located in Brossard, near Montréal.
AS Hanging Display Systems' clientele is diversified. In addition to museums and art galleries, the company services the institutional and commercial sectors and a growing number of individuals.
With the redesign of its site, the company sought to promote its brand to attract new customers and penetrate new markets.
As a result, it turned to BDC's Advisory Services, which helped identify their needs, create the site architecture and build an RFP for a website development firm.
"E business platforms are becoming increasingly sophisticated; doing it internally became a mission impossible," said Moncade.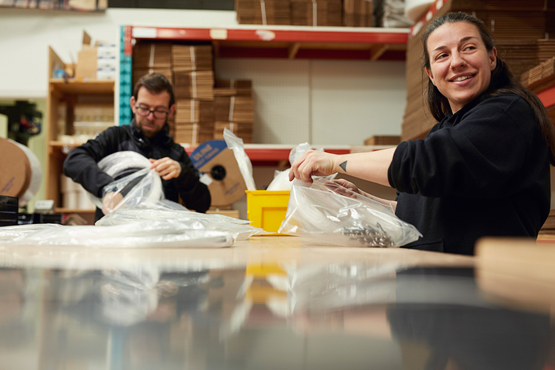 Client attraction strategies
In e-commerce, marketing is key.
To attract traffic to its site, the company is increasing its search engine optimization strategies. Organic and paid advertising, continuous social media presence, and a blog are some of the specific tactics used to generate a steady stream of sales.
The company also launched a new monthly newsletter. "We thought this was the ideal frequency to maintain reader interest. Right now, we have more than 4,000 subscribers," he said.
A few years ago, the company created a YouTube channel, where it shows videos demonstrating how various products work. New content will be added soon.
With the site redesign, the company reviewed its approach to social networks.
"Instead of being focused on products, our content is now more inspiring," explained Moncade.
The impact is already evident among subscribers. The Facebook page has more than 12,000 followers while the Pinterest page generates more than 100,000 visits per month. The company will soon be on Instagram.
Heading south
"Our strategies are successful. Our sales have been increasing every year," he said.
AS Hanging Display Systems now wants to expand its market mainly to Mexico and South America.
There are no plans for Europe at this time. "The market is very competitive. Also, transportation costs are exorbitant&mbsp;an onsite presence would be necessary and, for now, we have no such plans. We already have a distribution centre in the United States, which will facilitate our expansion throughout the rest of the Americas."
To effectively serve these new markets, Moncade plans to hire Spanish speakers. By the end of the year, the website, which is already bilingual (French and English), will also be translated into this third language.