Omicron: How to handle employee absences and supply chain disruptions
Take the right steps to protect employees, clients and your working capital
9-minute read
The latest wave of COVID-19 has led to shutdowns for service businesses, a return to work from home for office workers and widespread disruption for businesses that can't operate remotely.
One of the main issues affecting companies—and on-site businesses especially—is the high rates of absenteeism as worker affected by the Omicron variant are forced to quarantine and rest. This can delay projects or product delivery and will likely have a ripple effect through the supply chain.
"It's no secret what's going on," says Brett Prikker, Business Centre Manager with BDC in Kingston, Ontario. "If two people get sick on a production line, the whole line is affected, and the plant has to close."
"Some companies have good resilience plans and they are doing well, but many small businesses don't have the luxury of paying overheads to hire extra people—and we are in the midst of a labour shortage. It can be very hard for entrepreneurs," he says.
Prikker offers the following tips for dealing with high absenteeism as well as supply chain and cash flow challenges in the current wave of the COVID-19 pandemic.
1. Split up your team into independent groups
A first line of defence for businesses is to split up your team into independent groups (or pods) that have no contact with one another. Limiting the amount of contact between employees decreases the chances of infection. And if one team faces a disruption, other teams remain unaffected and can continue working.
"You can't have everyone working at the same place at the same time anymore," Prikker says. "Businesses have been using rotating work schedules so not everyone gets infected at the same time."
Employees should also be cross-trained so they can do the work of team members who need to stay home.
Many business owners have also taken the time to review their workspace to ensure employees are properly spaced out and equipped with adequate protective equipment.
Make sure your facilities are being set up in a safe way and try to have redundancies in your process so that if someone goes down someone else can come in and cover for them.
"You need to have people who can do the work in an isolated place. But even with that we are still seeing the virus spread," Prikker says. "Make sure your facilities are being set up in a safe way and try to have redundancies in your process so that if someone goes down someone else can come in and cover for them."
"Government guidelines are constantly being updated as the pandemic evolves. Staying up to date with the latest rule changes in your province will ensure you are keeping your workers and clients safe."
2. Reach out to suppliers
Supply chains were already strained before the latest wave of infections. The increased absenteeism has amplified those problems by slowing or even shutting down operations across the world. Each disruption creates ripple effects that slow down the other parts of the supply chain.
If you haven't done so, you should reach out to suppliers to see how they've been affected and that planned deliveries will happen on time.
"If there's a shutdown in a supplier, you could run out of supplies and then you can't meet your obligations as production is delayed," Prikker says. "We are seeing entrepreneurs buying more inventory to protect their operations and we are looking to help out on a case-by-case basis."
Over the long term, it's probably best to diversify your supplier base to help protect against future disruptions.
If your operations have been impacted by Omicron, discuss deferred payment terms with suppliers. If you currently pay accounts within 30 days, try to negotiate 60 days without penalty. This gives you the option of keeping cash on-hand longer during a slowdown.
"We are anticipating that some businesses will have a gap in their working capital needs because of absenteeism," says Prikker.
3. Keep a close eye on your working capital
In normal times, there is a continuous inflow of cash coming in from receivables and payments that flow out to suppliers for materials and inventory.
A slowdown or shutdown of your operations could affect your cash flow cycle and leave you with a shortfall in working capital to pay your bills.
You shouldn't wait until you run out of cash to reach out to lenders. You need to have the discussion about how much you can get early on.
"Having a clear understanding of your working capital and cash conversion cycle is essential," Prikker says. "You should look at your current cash burn to see how much cash you'll need over the next six to 12 months. Then, do the same exercise but assume that everything is delayed for 30 or 60 days—if you lose key people or need to close, for example. Do you have a contingency in place to deal with that?"
With this analysis you'll be able to approach your bank about getting a short-term increase in your credit line to deal with potential disruptions. Lenders such as BDC may also be able to offer a working capital loan to bridge the gap between cash outflows and inflows.
These financial discussions need to happen before your reach a crisis point.
"You shouldn't wait until you run out of cash to reach out to lenders. You need to have the discussion about how much you can get early on," Prikker says.
The different government support programs may also be able to help businesses that have been impacted by the pandemic.
The cash flow cycle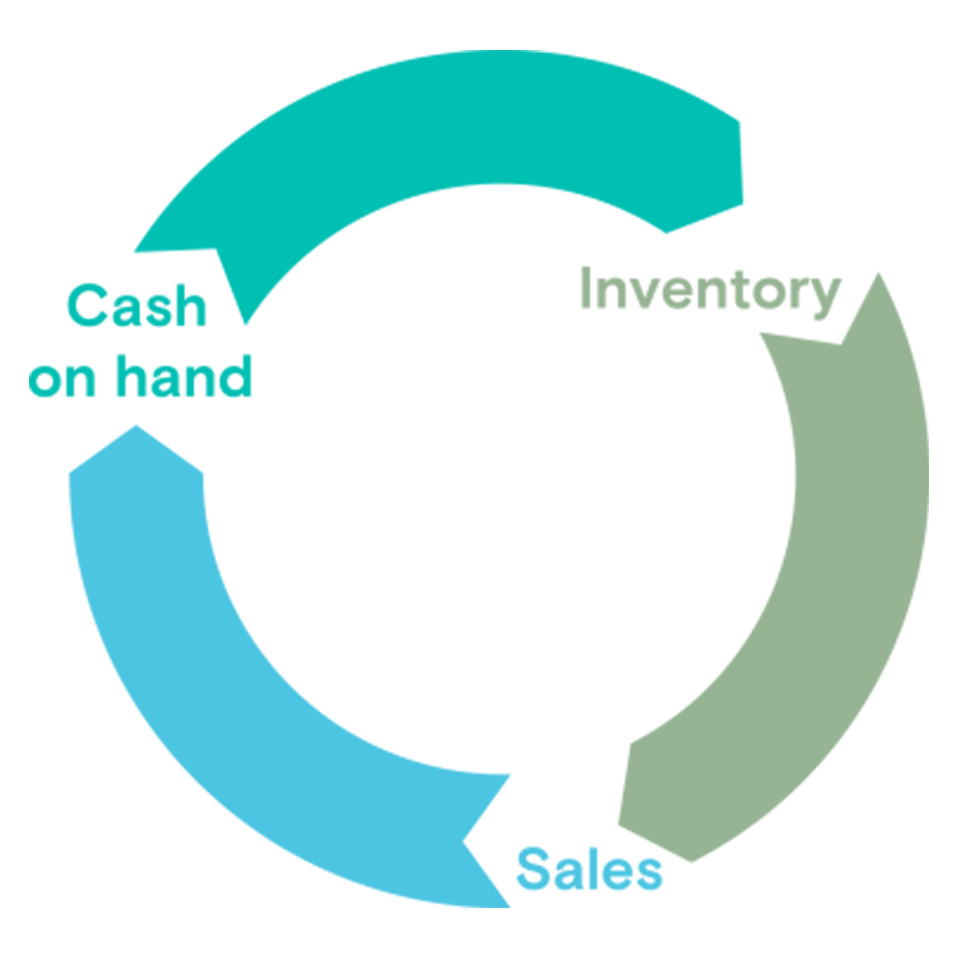 4. Create or review your business continuity plan
Entrepreneurs faced a tremendous uncertainty during the first wave of the pandemic. Many business owners created a business continuity plan to help them navigate the current spike in infections.
If you haven't done so, you should create a contingency plan that outlines how you will maintain your operations in case of emergencies. You can download a free business continuity plan template and a checklist from our website. BDC Advisory Services can also help you create your continuity plan.
Your business continuity plan will help you identify critical employees, suppliers, clients and processes that need to be maintained in case of emergencies.
"It's surprising how many people don't have a continuity plan in place, and they scramble once there is an issue," Prikker says. "We've seen some clients benefit from something as simple as putting together a business continuity checklist."
The plan should also outline what will happen if anything happens to you as the business owner. Can the business run without you? Can someone on your team take over if you must leave the business for a few weeks?
Having this type of plan in place will not only help you deal with the current and future crises, but it will also make your business more valuable for potential buyers and investors.
5. Plan for the future: Invest in technology
While we can hope that the current spike in infections is temporary, future infections and other emergencies are still likely. The current challenges are a reminder that investments in technology can make your business more resilient.
Companies that invested in remote work technology, for instance, are withstanding the latest crisis much better. These investments also made them more attractive to employees and may result in cost savings as remote or hybrid models reduce the need for office space.
A similar story can be told about investments in online sales and digital marketing. "Companies need to get online," Prikker says. "The salesperson model has changed, if you're not online it will be more difficult to grow in the future."
Business owners should also look at automation as a way to decrease contact between employees while improving efficiency.
Prikker gives the example of a company that is automating the labelling of their products. Automating this process will allow them to increase and accelerate their production while also lowering the risk of infections; labelling is a labour-intensive process where several people work closely together.
"Our clients are being forced to operate differently and work with people differently," Prikker says. "We are seeing a lot of entrepreneurs who are using this as an opportunity to revisit their processes and improve upon their current ways of doing things.
"The silver lining in all of this is that it has gotten people to think about their business differently," he adds.