"You quit you lose": How this entrepreneur overcame adversity to come out on top
After recovering from a series of setbacks, Chris Kennedy is ready for any challenge
6-minute read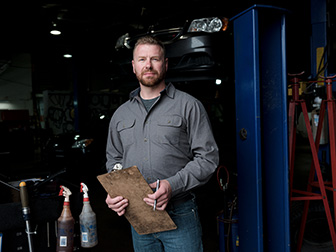 When Chris Kennedy saw all he'd struggled to achieve slipping away, it was an employee who showed him the way forward with a few simple words.
Kennedy had overcome momentous setbacks to finally put his transmission repair franchise on the right track. At last, the business in Moncton, New Brunswick was profitable and growing. That's when Kennedy was diagnosed with cancer.
With months of treatment ahead, he was forced to take an extended leave from the business. What would happen in his absence? What if the treatments for Hodgkin's lymphoma didn't work? His wife, two young sons, business partner and employees were all counting on the business for their livelihood.
Should he throw in the towel and sell the company? It was during this dark time in 2016 that he spoke to the employee, who had also become a friend. Even now, Kennedy tears up at the memory.
"He gave me a fist bump, and he said: 'You know, Chris, if you quit, you lose," he recalls the man telling him. "You quit; you lose. It's just a few little words, you know—but it was inspiring. And on my days when I felt down, it helped to lift me up."
Refused to quit
He didn't quit. After eight months of treatment, the cancer had gone into remission and the business hadn't missed a beat, thanks to his business partner (who is also his father-in-law), his wife and his employees.
"You're worrying about your health situation, and at the same time, you're worrying about the business because the two are tied together. That's a lot of fear," he says. "But the first month I was away, the guys turned a record month. That kind of set my mind at ease. And then the second month? They did the same thing again."
It wasn't the first-time Kennedy had refused to give up in the face of adversity.
His journey began in the early 2000s when Kennedy found himself unhappy working as a mechanic in a car dealership. He'd become a master technician specializing in transmissions and electrical systems, but he was thinking about changing careers. An employment counsellor persuaded him to meet the owner of the Mister Transmission franchise in Orillia, Ontario. There, he found a new professional home and the owner became an important mentor.
Moved his family across the country
After four happy years working in Orillia, Kennedy caught the eye of Mister Transmission's president who suggested he consider opening his own Mister Transmission location.
He and his father-in-law, Gene Lewis, sold their homes in the rural Lake Simcoe area, north of Toronto, and went in as equal partners on the new franchise located in Moncton, New Brunswick. Kennedy, his wife, their newborn son and his mother, along with Lewis and his wife, arrived in Moncton in early 2004, ready to start a new life.
They began with high hopes, but the problems began almost immediately. They had found an attractive location and signed a five-year lease, but just before closing, they discovered the owner was deeply indebted and they couldn't go ahead.
Already in debt, the company ran losses
The partners were back to square one, searching for a building. It took months to find a garage and it turned out to be for sale, rather than lease.
Using a good chunk of their savings, the partners bought the building but then found a pool of oil had collected under the shop floor, requiring a hugely expensive clean-up. Kennedy and Lewis hadn't been working for months, and now they were starting a new business with a heavy debt load.
It didn't get any easier after they'd finally opened. They found attracting business to be slow going in tightly knit Moncton. The company incurred losses in the first years and Kennedy spent many sleepless nights wondering how he was going to make payroll and pay his mortgage.
He credits BDC Client Partner Rosemary Walsh for helping them turn the ship around. She advised him on how to improve the company's financial management and operational efficiency. As sales picked up slowly but surely, the company became profitable and the future looked bright.
Focus on the positive things in life
Then came the cancer diagnosis. Kennedy doesn't downplay how difficult that period was, but he says he grew from the experience.
"Now, I try to find the positive things in life and I try to focus on those things and truly, truly be thankful for those things. I can't believe the opportunity that's in front of me and I've got to seize it."
Kennedy is interested in opening a transmission remanufacturing operation to serve Atlantic Canada. He also wants to open a training centre for technicians.
Seek out advice
Besides perseverance, his greatest strength, he says, has been his passion for being an entrepreneur. The biggest mistake was not reaching out for outside advice earlier. Now, he seeks advice from consultants and other entrepreneurs and learns more by attending conferences.
"It's one thing to be a fighter and not give up. But, if you can avoid falling in the hole in the first place, that's a lot better."
In reflecting on the road he's travelled, he points to the support he's received from his family, employees, the Moncton community and his religious faith.
"It hasn't been an easy 16 years, but going back to the 2004, I would have given anything to be where I am today. I just couldn't have realized how much work or effort it was going to take. Those things that happened along the way, I don't regret them. They happened and I learned from them and they make me stronger."