Indigenous owned: A business model with a bright future
TIPI Insurance Partners is owned by 60 First Nations communities across Western Canada
5-minute read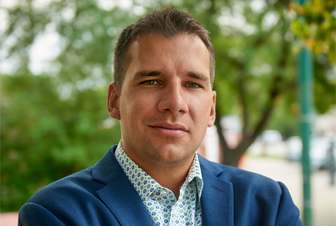 TIPI Insurance Partners is much more than a growing insurance brokerage in the eyes of CEO Nathan Ballantyne. It's a business model that's bringing hope for a better future to Canada's First Nations.
TIPI Insurance is owned by 60 First Nations communities in Manitoba, Saskatchewan and Alberta. Those communities, along with many other First Nations and Indigenous organizations across Canada, are also TIPI's customers.
TIPI's business model keeps money in First Nations communities, Ballantyne says. TIPI, whose tagline is Stronger Together, also provides much-needed employment—26 of its 36 employees are Indigenous.
"I see this as the way of the future for our communities," says Ballantyne, a member of the Misipawistik Cree Nation in Grand Rapids, Manitoba. "Traditionally, our people have been served by non-Indigenous organizations. We're turning that around. The communities have a stake in the company, and the dollars are recycled back into the communities."
Company is growing rapidly
TIPI, which offers property and casualty insurance as well as pension services, group life insurance and benefits, is experiencing strong growth with revenue increasing by 25% in 2017.
Headquartered in Winnipeg with seven offices across the West, the company is the insurance broker on $1 billion in assets in 90 First Nations communities from B.C. to Ontario. It also has $200 million in pension assets under management and $40 million in group insurance premiums.
The company offers insurance on buildings, property and vehicle fleets among other risks in First Nations communities and Indigenous organizations. It also increasingly sells insurance on the projects of First Nations economic development corporations, including in Alberta's oil patch.
At just 35 years old, Ballantyne's own story is no less inspiring than that of the company he leads. He grew up in Selkirk, Manitoba, near Winnipeg, but spent summers in Grand Rapids at the northern end of Lake Winnipeg.
Community supported CEO's education
Ballantyne estimates the Misipawistik Cree Nation invested $100,000 to pay for his university education. He holds an bachelor's degree in First Nations governance from the University of Manitoba and an MBA from the Edwards School of Business at the University of Saskatchewan. He recently completed the Directors Education Program at the University of Toronto's Rotman School of Business.
He began his career working as an analyst at Capital for Aboriginal Prosperity and Entrepreneurship Fund in Montreal, an investment fund specializing in Indigenous-owned businesses. He returned to Manitoba to take a job at Tribal Wi-Chi-Way-Win Capital Corporation (TWCC), a financial institution owned by five tribal councils.
When TWCC made an investment in the company that evolved to become TIPI Insurance, Ballantyne joined the company first as a director, before being appointed CEO in 2012.
Hires and trains Indigenous employees
He says TIPI strives to support the career aspirations of First Nations people in the same way his community supported his education.
"We take people and train them and invest in them, send them away to school, whatever we have to do to get them trained in this industry, and then create meaningful careers for them."
TIPI made a big step forward in 2017 when it acquired 51% of Saskatchewan-based IMI Brokerage Company. Owned by 10 First Nations, IMI offers life insurance, group benefits and pension services to communities in Saskatchewan, Alberta and B.C. The transaction was financed by BDC's Indigenous banking unit.
Entrepreneurship is part of the answer
Ballantyne, who says he's on the lookout for more acquisitions, believes entrepreneurship needs to be an important part of the answer to overcoming the challenges Indigenous people face.
"We need to find creative ways to be successful, to exploit opportunities for ourselves, and make better lives for our children and grandchildren," says Ballantyne, who is married and the father of two children.