Automating hiring: Business uses talent assessment platform to quickly find best candidates
Resume-less
assessment expands candidate pool, increases diversity and improves retention
7-minute read
Caitlin MacGregor was leading a technology start-up when she had a revelation that changed her life. She needed to hire employees, but wasn't satisfied with the usual long process of posting jobs, sifting through resumes and sitting through interviews.
What if she could use industrial/organizational psychology and technology to speed up hiring and zero in on the best candidates? What if she could use data to reveal the potential of workers to objectively align talent to opportunities at speed and scale.

MacGregor developed a psychometric assessment to identify high-potential applicants using research from industrial and organizational psychology. "We found people we would have never looked at," she says. "It democratized access to this highly predictive data and we found some absolutely incredible top performers."
Plum uses a talent assessment platform to automate hiring
Plum was founded in 2012, with a mission to empower people to reach their full potential at work. Plum's behavioral assessment quantifies people's potential and provides organizations with objective data to inform talent decisions across the employee lifecycle. Her rapidly growing company has expanded from 10 employees to 33.
Plum received venture capital funding from BDC Capital's Women in Technology Venture Fund. It has also received cash flow financing from BDC's tech financing team.
Plum's clients include Canada's Department of National Defence and Scotiabank, which have used the company's behavioural assessment to improve hiring diversity.
MacGregor also uses the platform herself to identify high potential candidates for roles at Plum. Candidates complete a 25-minute assessment that gauges everything from social intelligence, problem-solving skills to adaptability, innovation, ability to work with others and leadership potential.
Tool matches candidates to roles
The assessment then automatically generates a profile that reveals the candidate's top talents, work style and work preferences. These can then be matched for fit with a company's job openings.
"We use it to hire every employee," MacGregor says. "It's a lot of work to read hundreds or thousands of resumes. The tool automates talent acquisition and matches candidates to roles. This allows people to do what they do best: focus on candidates who are the most likely to succeed."
Only after a candidate is identified as a good fit does the company look at the person's qualifications, such as work experience, credentials and education.
"Science shows that this information doesn't predict how a person will perform on the job," MacGregor says.
"Work skills can be taught on the job. Behavioral skills can't be taught. Once you find the top 10 percent of people who are a great match, you can look at their hard skills and decide if it's worth training or upskilling them."
Hiring pool expanded
The company also uses the candidate's profile to structure job interviews. "You can use the data to tailor the conversation with the candidate and zero in on their talents," MacGregor says.
A candidate can also be offered a different job for which they may be better suited. "We can match them with appropriate opportunities rather than just a single job posting they may be applying for," she says.
An additional benefit is that the process makes recruitment more objective, helps remove systemic biases and expands the hiring pool to a more diverse base of candidates.
Process helped achieve gender parity
"The tool screens in people with diverse backgrounds that may not have been considered before," MacGregor says. "The vast majority of our employees had no experience in tech before Plum. The only reason they were short-listed was because we saw they had the potential to succeed if we trained them," she says, crediting the assessment with helping Plum achieve gender parity in its workforce.
"Employees really believe in the product because they are an example of it. We can go after people others aren't targeting. It adds objectivity to the process and has a big impact on diversity."
The successes led MacGregor to another important revelation. If the tool worked so well for talent acquisition, it could also automate and optimize talent management for existing employees. She developed ways to use the psychometric assessment to identify and develop future leaders, empower employees with career insights and form teams that work well together.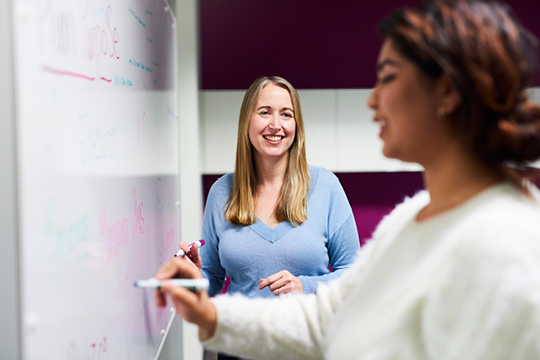 Automated talent management helps retention
"We can use the assessment to find new opportunities for employees internally," she says. "The tool helps us figure out who will thrive in what job. Employees can also see opportunities they're matched for. A customer service or tech support person may discover they have unlocked potential as a manager or in product development."
In October 2020, MacGregor added the talent management functionality to Plum's offerings. In September 2021, the company announced another innovation for its tool: automated functionality to identify employees sooner in their career with leadership potential.
Market interest has been spurred by labour shortages exacerbated by the pandemic, which have led businesses to rethink their hiring and retention efforts. "There is a new focus on retention and upskilling employees," MacGregor says. "Businesses are starting to understand that they have to screen in and surface people they didn't realize were a good fit."
Rising sales reflect market interest
Plum's numbers reflect the market interest. Annual sales were up 80% at the company's year-end in October 2021.
"This is game changing for talent management—the critical missing piece," MacGregor says, touting the company's offering as "the first end-to-end tool for all stages across the employee life cycle."
"We're envisaging hockey-stick growth."