A
multi-pronged

approach to coping with a labour shortage

This manufacturer focuses on hiring immigrants and boosting productivity

5-minute read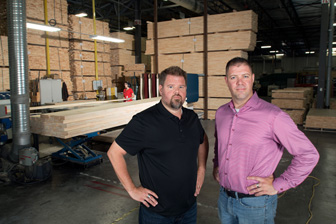 Nicholas Drouin is facing such a grave shortage of skilled labour he has to regularly turn away sales from his fast-growing wood-products company.
It's not unusual for Drouin to go weeks without receiving a single résumé from a job candidate at Produits Matra in the Beauce region, south of Quebec City.
In one case, he spent three years trying to find an electro-mechanic before finally having to hire someone in the Philippines for the position.
"Recruitment is an enormous, constant problem for us," says Drouin, who is Matra's co-CEO with his brother Jean-François. "It's a brake on our growth."
The company turns down 5 to 8% of sales because it just doesn't have the personnel to do the work.
Labour shortage getting worse
The labour crunch at Matra and elsewhere in Canada is getting worse as baby boomers retire, leading to fierce competition for workers. It's a serious growing problem across the country, according to a new BDC study titled Worker Scarcity in Canada and What Businesses Can Do to Respond. Rural Quebec is one of the hardest-hit regions.
Drouin isn't accustomed to slowdowns at Matra, which makes pine window and door components, siding and mouldings. He and Jean-François started the company in the village of Saint-Martin with a 500-square-metre plant (5,000 square feet) and just three employees in 2000. (Nicholas focuses on production and administration, while Jean-François handles sales and wood procurement.)
The company has grown quickly thanks to a booming real-estate market and favourable currency exchange rates, which helped expand sales in the U.S. As well, a fortuitous investment in automation in 2006 allowed Matra to flourish during the last recession while competitors struggled.
A devastating fire in 2010 destroyed their plant, but the Drouin brothers made the best of that setback by rebuilding with an ultra-efficient facility flush with state-of-the-art technology. Revenues have shot up 20 to 25% annually ever since.
Matra today has expanded to 240 employees and three plants covering 18,000 square metres (200,000 square feet).
Uses innovative approach to worker shortage
Nicholas Drouin has used the same innovative approach in dealing with the company's labour shortage. Matra has aggressively pursued a multi-pronged strategy focused on hiring abroad, improving employee retention and increasing operational efficiency.
One of the company's first steps was to hire a human resources director who focuses on combatting the labour shortage full-time.
The new HR director has expanded recruitment efforts beyond Canada's borders. That includes travel to the Philippines to search for new employees. About 5% of Matra's workers are now newly arrived immigrants.
Matra also works hard to retain existing employees. It created a reward system to recognize strong performance, low absenteeism and innovation. Reward points can be exchanged for gifts.
Matra is also trying to make the workplace more welcoming. Drouin encouraged employees to create a social club that organizes company-paid lunch gatherings, draws and outings to sugar shacks and sports events.
Builds employee engagement
"We want to add more fun to the workplace," he says. "It helps bring people together and make them more engaged with the business."
The company seeks to accommodate parents by offering flexible work hours. Matra has also tried to foster a culture of respect and politeness among employees and supervisors.
"It's simple things like saying hello and thank-you and listening when people want to talk," Drouin says. "People want to be respected and heard."
Training is another key focus. The new HR director created a competency profile for each position, then developed a process to evaluate employees to identify skill gaps. The company concentrates training efforts on filling those gaps.
To reinforce the process, Drouin picked a group of senior employees to act as trainers and mentors for other workers. "It lowers the walls between supervisors and employees and removes uncertainty on the floor, which helps employee retention."
Pursued automation projects
Finally, Matra has also focused on efficiency gains to allow it to do more with the same number of workers. The company has four different projects on the go to invest in labour-saving equipment.
The projects include automated painting, sorting and stacking systems and investing in high-tech machinery to increase automation in a wood-pellet plant that was rebuilt after a fire in 2016.
Drouin expects the investments will save the equivalent of 19 positions—freed-up extra hands available to take on more of the orders that Matra now turns away.
"We're working hard to adapt to the new reality of the labour market," Drouin says. "We don't have a choice if we want to compete and keep growing."