This IT company finds and keeps great talent by looking internationally
How paying close attention to your employee's experience gets them to stay
6-minute read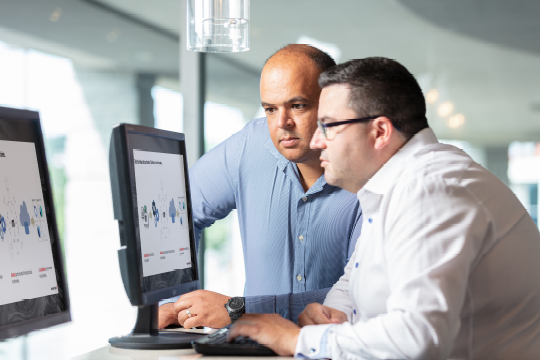 When Momentum Technologies hired Mohamed Guetat as a programmer in 2006, he was about to return to Tunisia because he had been unable to find work in Canada. Fifteen years later, he became President and Chief Executive Officer (CEO) in the spring of 2021.
Today, Guetat and his journey personifies the Quebec City-based company's vision: to take on people from all over the world so they can reach their full potential.
Momentum Technologies specializes in acquiring, managing and using digital data. Since it was founded in 2003, finding qualified employees has been a challenge. Because of the scarcity, company management quickly pivoted and began looking for new employees wherever it could find them—including internationally.
It also makes every effort to ensure that its employees feel good about their work and want to stay with the company.
Embracing Diversity
The company, which now has around 200 employees, has always pursued a variety of means to fulfill its hiring needs.
Before it began recruiting internationally, Momentum Technologies looked for Quebec-based talent who had received their professional training abroad. For example, it has worked with SOIT (Service d'orientation et d'intégration des immigrants au travail) and the Chamber of Commerce of Metropolitan Montreal to find candidates.
In 2008 the company had the opportunity to recruit international candidates on missions organized by Quebec International.
"At the time, this practice was somewhat revolutionary," said Nicolas Clusiault, Vice President, Human Resources and Special Projects at Momentum Technologies.
The experience was so successful that, in 2015, the company set up a team to handle recruitment logistics: from handling work permit applications, suggesting the best relocation time based on the children's schooling, buying plane tickets, greeting families at the airport and helping them get settled—the human resources team does it all.
"International recruitment involves a lot of logistics, but we still decided to handle all the issues internally," says Clusiault.
"We put ourselves in the immigrants' shoes and look at every aspect of their relocation to increase the chances that things will work out. Good care is an important consideration to us, one that impacts every aspect of the process."
The staff at Momentum Technologies now represent 27 different nationalities. More than two-thirds come from abroad.
Promoting French language learning
All of Momentum Technologies employees must be proficient in French, as the vast majority of the company's clients are francophone.
"If you want to work here, even if you're in IT, you still have to have a good command of French," says Clusiault.
"You must be able to understand what the clients want and make recommendations to them. We work with French language schools to provide in-house language lessons for our employees' professional development."
He added that many employees had taken French lessons before arriving in Canada.
"We're lucky that Quebec has a good international reputation. Because people want to come and work there, they do what they have to do to get ready," says Clusiault.
Momentum Technologies is also prepared to help its employees when the need arises. For example, Clusiault mentions there was once a fire at the apartment of an employee who had just arrived from Mexico.
"We were there when the insurance agent came because our employee didn't speak much French. We wanted to make sure there wouldn't be any misunderstandings between our employee and the insurance agent."
Understanding the immigrant experience
Given Momentum Technologies' success, many executives have asked Clusiault how they can get involved in international recruitment.
"I always say that the company shouldn't just focus on its own needs," says Clusiault.
"It must also take an interest in what the new arrival is experiencing. In order for this kind of recruitment to work, both parties must be invested in it."
In fact, both Guetat and Clusiault meet every employee – not just the international recruits – at the three-month mark, to see how they're doing and check that their integration is going well.
Clusiault recognizes that people who come from another country have a different cultural background from those who were born here. In one instance, an employee whose father had died unexpectedly didn't pause before booking a plane ticket and leaving.
"He didn't ask for any time off, but we recognize that this kind of thing can happen when an employee's family lives in another country," says Clusiault.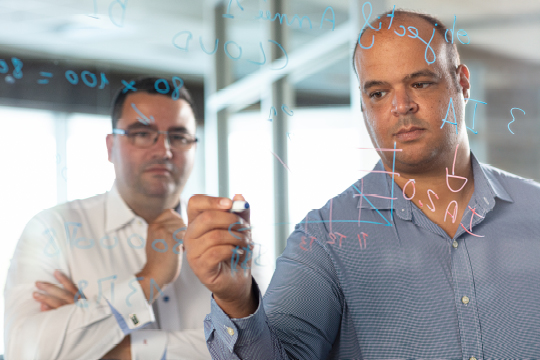 A responsibility to families
The company also takes on responsibility for the families of its employees.
"Recruiting internationally isn't just a matter of business, it's also a decision that affects people's lives," says Guetat. "Families believe that working for us will change their future. If things aren't working out, you can't just send them back to their country!"
Because the company takes great pride in not terminating the contracts of employees recruited from abroad, it sometimes needs to show patience and flexibility.
"When we run into problems, we always look for solutions," says Guetat. "We provide coaching or training, or we move the employee to a project that's more aligned with their skill set. We sometimes had to wait several months for a suitable project to present itself, but we continued to pay the employee."
In the first few months of the pandemic, Momentum Technologies lost nearly 30% of its contracts but did not lay off any employees.
"Our strong financial position meant that we could ride out the crisis together, and now we no longer have to worry about our customer numbers," says Guetat.
This attitude pays off. "Our employees talk about us to their friends and family back home, and that puts us in touch with other candidates. That's also why we opened an office in Tunisia in 2019," says Clusiault.
Since 2015, the company has been hiring an average of 20 international employees each year. The retention rate for those employees is the same as it is for locally recruited staff.
Career development
A big reason why employees stay at Momentum Technologies is because they see themselves advancing there. It's all part of a strategy that's built into the company's DNA.
In 2013, Michel Ganache, the company's former president and co-founder, drew up a succession plan that involved forming a committee to select the employees who would be the new shareholders. Among the key players who were singled out were Guetat and Clusiault.
In early 2021, with the help of BDC and Desjardins Business, the new decision-makers bought out the two existing co-founders and appointed ten new shareholders.
"We now have 14 shareholders, four of whom are main shareholders," says Guetat. "Many of them come from racially diverse backgrounds. Together, we will continue to grow the business and pursue our dreams."