Frogbox springs to franchising success with a green idea
Read time: 4 minutes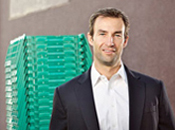 You may think being flooded with hundreds of franchise requests would be a dream come true for a fast-growing business like Vancouver's Frogbox. But Doug Burgoyne is betting a methodical approach will win the race for his young business.
Frogbox rents and delivers convenient, affordable and eco-friendly plastic moving boxes to people changing homes. The boxes have proven to be a hit with consumers and Frogbox received a major boost when Burgoyne persuaded two of the stars of CBC's Dragons' Den to invest.
But Burgoyne is building the company with care. When all those franchise requests came in, he put them aside—despite the potential for millions of dollars in easy, upfront revenue.
"Where franchise companies really succeed is when they have profitable franchisees who are paying a regular, healthy royalty stream," says Burgoyne, an MBA whose experience includes high-tech sales and marketing.
A greener alternative
Frogbox was launched frugally in 2008 with just one truck and one part-time employee delivering and picking up boxes to homes in Vancouver.
From the start, the company branded itself as a greener alternative to cardboard boxes. The company's boxes save people the time and effort of finding and disposing of cardboard boxes while minimizing waste—the boxes can be used up to 400 times each.
Burgoyne was confident the business model would work in other cities—if done correctly. An opportunity arose in Seattle in 2009 when a 1-800-GOT-JUNK waste removal franchise found itself with excess people and trucks and falling sales as a result of the recession. With expenses beginning to outstrip revenues, the franchisee decided to partner with Frogbox to bring the service to Seattle. The two companies now share warehousing, office space and even insurance costs.
Last year, Burgoyne and a partner funded a third franchise in Toronto. The business model was paying off: revenues doubled between 2009 and 2010.
An eight-minute pitch
Frogbox's big break came in May 2010 with a chance to pitch the business to investors on Dragons' Den. That eight-minute pitch—which aired in January 2011—landed Burgoyne capital and two new partners.
Jim Treliving, co-owner of Boston Pizza, and Brett Wilson of Canoe Financial paid $200,000 for 25 per cent of Frogbox. As part of the deal Burgoyne had to ask Brian Scudmore of 1-800-Got-Junk and Mike Tattersfield of Caribou Coffee if they would invest. Tattersfield put in $50,000.
To help manage the growth, the company has designed a computer system that can be expanded as new franchisees came on board. For a monthly fee, franchisees share online systems for ordering, scheduling and billing, as well as a website that can be customized for each market.
Frogbox, a client of BDC Financing, has also developed detailed operations manuals—how-to guides for franchisees on everything from responding to complaints, to using social media, to what employees should wear and say on calls.
"Franchisees benefit from the mistakes we made and the lessons learned," Burgoyne says. "It ensures the business runs smoothly. Customers are happy. And revenues grow for everyone involved."
Frogbox expects to have 15 franchises up and running by the end of 2011 and be operating in the largest cities in Canada and the U.S. within four years.
"I could easily sell 50 franchises this year, but there's a real danger in trying to grow too quickly. You need to be able to support your franchisees, have people properly trained and grow at a reasonable pace. That's been the secret to our success."
FROGBOX Eco-Facts:
Boxes can be reused hundreds of times, making their carbon footprint much lower than cardboard moving boxes.
Donates 1% of gross revenues to frog habitat restoration (franchisees are required to donate that amount locally).
Vehicles use bio-diesel fuel made from recycled waste oils and waste cooking oils.
Winner, Small Business BC Best Green Business Award