"We proved the need is real": how JD Development Group created a market for upscale student residences
From student residences to
low-rise
housing, thinking outside the box pays off for this
Ontario-based
company
7-minute read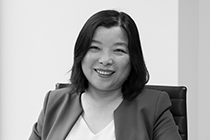 Julia Zhang didn't expect to end up in construction, much less as the CEO of a construction and property development company. Born in China, she studied English and law before jumping into a decade-long career exporting equipment and heavy machinery. Building student residences didn't cross her mind until she immigrated to Canada.
 "I have had many dreams in my life, but this is definitely one of the last ones on my list," she says with a laugh.
 Zhang might not have predicted she would end up there, but she is now the co-founder and CEO of JD Development Group, a multi-million-dollar company based in Markham, Ontario that does everything from land development to student residence management. One of their flagship projects is Rez-One, an upscale student housing development in Waterloo, Ontario, an hour's drive from Markham.
Creating a new market sector
Ten years ago, a family friend asked Zhang — then a newcomer to Canada — for help locating an off-campus apartment for their child. Zhang had difficulty finding a place that lived up to her high expectations.
With a keen eye for spotting business opportunities, she did some research and discovered that Canada is a decade behind the U.K., Europe, and the U.S. when it comes to building luxury rental housing for its growing student population.
 "It was a new sector that is underserviced and that needs new thinking and hard work," Zhang says. "My dream was to build a home for a student who's away from home."
 Today, her company's residences house close to 3,000 student tenants from the University of Waterloo, Wilfrid Laurier University and Conestoga College. Despite the COVID-19 pandemic, they have an impressive 97% occupancy rate.
A rocky start
Although her company is flourishing now, when she first started, Zhang had trouble convincing bankers and others in the industry that building student housing was a good investment.
Everyone had stories about their children's search for university accommodations, but they doubted if there was real demand for the type of upscale residences Zhang had in mind.
"People viewed this sector pretty negatively. They think: 'Kids don't look after their property; they're not good tenants; they're troublemakers,'" says Zhang.
In spite of these misgivings, Zhang was able to gather enough money to fund her projects, partly with the help of BDC. In 2013, the company signed a financing deal for $18 million, which it repaid in two years. The company also purchased multiple business advisory mandates with BDC around that time.
JD Development Group's first student residence building in Waterloo opened in 2013. After completion, the waitlists for accommodation started piling up.
"Throughout the years, we found that 99% are very good tenants," says Zhang. "We've seen that when students really love their home, they'll take care of it."
But achieving this level of success has not always been easy, and challenges still remain. Although JD Development Group has gained recognition as one of the premier developers and operators of student residences, it doesn't change the fact that construction was, and still is, a male-dominated industry.
"Sometimes I look around and I'm the only woman in the room," Zhang says.
From construction to property management
A few things make JD Development Group stand out from its competitors. Their average construction cost per square feet is lower than the industry average, despite building premium living spaces, for instance.
The company has also created a unique end-to-end process for its residents. The company not only takes care of the land development and construction of the high-rise building, but it also manages the building afterwards.
This wasn't part of Zhang's initial plan.
"We never thought we would become the operator ourselves; we just thought we would build a good student residence and then let other people lease. But it turns out not many operators can handle a student residence on this scale and maintain good communication with the students. It's better for us to do it as owners."
"We want the students to live well and do well," says Zhang.
In addition to ground floor retail spaces, fitness facilities and large rooms with en-suite bathrooms, JD Development Group's residences also provide students with a 24-hour concierge and a security staff to handle parking, guest permits and any security issues. Students can request maintenance and repairs through a website. They can even opt into a paid cleaning service.
"Our staff has a policy: stand by what you said to tenants. We've built an operating team to deliver on our commitment. We never forget where we came from. This is part of our company culture."
 BDC's Growth Driver Program
A few years ago, Zhang worried that branching out into property management was not the right track for her business. After some initial concerns, she ultimately decided to expand in that direction with some help from BDC.
"The business advisor at BDC gave me so much personal encouragement and took me to all kinds of events to help me to understand how the other companies are doing," says Zhang.
 In February 2019, she also started BDC's Growth Driver Program, which is designed for leaders of fast growing mid-sized businesses. The program helped her establish a senior management team, align her many business units to an overall strategy and create clear key performance indicators (KPIs).
"I cannot say enough thanks," says Zhang. "Without the support we would not be here today."
Resilience to downturn
About half of the student residents in Zhang's buildings come from overseas. In 2020, the occupancy rate spiked as students who would have normally flown home for the summer remained in Canada instead.
Although the number of incoming international students has taken a hit as the COVID-19 pandemic has gone on, Zhang is confident that demand in the sector will stay strong.
"We've proved that safe and good-quality student residences have a lot of resilience in a downturn," says Zhang.
She says that domestic students are just as eager as international ones for high-quality rental housing, adding: "We proved the demand is real."
"My biggest satisfaction"
Zhang stands behind the quality of her products. She was never an international student herself, but in the last few years she has begun to receive messages from some of her old friends and classmates back in China: their sons and daughters are now international students — and they're staying in Zhang's buildings.
 For Zhang, it has been a chance to re-connect with old friends after 20 or 30 years.
 "That is my biggest satisfaction: My old classmates feel good; they feel relieved because they don't have to worry about where their children are staying," she says.
Her own son, now a computer science major in Waterloo, lives in a Rez-One residence.
"He treats the residence as his home, which is surprising even to me," Zhang says.
 Reflecting on her journey, she is proud of where she is now.
"If I stayed in China, I would still be in business," she says. "But I would never have achieved as I have done in Canada today. I couldn't have done it without all the support that I have received from various institutions, as well as the BDC consulting team, other consultants and from all of our staff. They have made a Canadian dream to become true."