You can't do everything on your own: How this entrepreneur took his business to the next level
Marc Porcelli
built
Curate Mobile
into a
multi-million-dollar
firm in two years. But he's now put his trust in his executive team to take it to further scale up.
7-minute read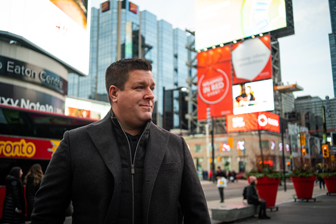 Marc Porcelli was sitting in a beachfront hotel room at his laptop. Outside his wife, three kids, business partner and extended family were enjoying their vacation, splashing in the pool and soaking up the sun.
It was December 2018. Porcelli had booked the holiday months in advance. But he'd spent the summer researching potential acquisition targets for his rapidly growing company, Curate Mobile. He had no choice: He had to close the deal.
Despite the temptation of the ocean, Porcelli closed the curtains, put on the "do not disturb sign" and put his head down to work.
"But I realized at that point that maybe the time had come to stop taking on so much on my own. That was a big realization for me."
Porcelli left that beachfront determined to build a solid management team that could help him and his business partner scale the business. Several months later, Curate Mobile hired several experienced executives, including the former Country Manager of Snap Canada, an international social media company. Porcelli now feels he can rely on his team to further accelerate his already impressive growth.
Started on the kitchen table
Porcelli hadn't anticipated his company would be ready to make a major acquisition so quickly.
Just three years earlier, in 2015, Porcelli quit a lucrative job in sales and launched Curate Mobile from his kitchen table. He had a vision: To create a mobile marketing firm that would offer real-time, behaviour-mapped, direct-to-consumer marketing.
His key differentiator would be transparency. A lifelong student of analytics, Porcelli harnesses and articulates data to ensure his clients know exactly when and where their marketing money is being spent in the mobile market.
"Mobile was really taking off at that point, so that was naturally my focus," says Porcelli. "I saw the potential for real-time ads being served, grabbing people with the right content at the right time and in the right place."
Planning takes the fear out of risk
The fear of being his family's sole breadwinner and the risk of starting his firm loomed large in the back of his mind, especially with a new baby in the house. "I think as an entrepreneur you're always questioning things," says Porcelli. "But I'm also very calculated. The first months were spent planning and examining the risk so I could create my business plan."
This thorough planning helped him secure a start-up loan with BDC. It also paved the way for a successful launch; Curate Mobile was profitable after six months and had earned over $1 million in revenue by the end of its first year.
"I approached BDC with all the business modelling, the financial modelling, the technology and the track record, it was very thorough," says Porcelli.
No time to relax
The company grew rapidly from there. Porcelli remained mostly on his own to manage that growth.
"I was doing all the finances in the company, the majority of sales, all the oversight. I was motivated because I knew I was making a strong investment that would pay dividends down the road," says Porcelli. "When you're starting out, you know that no one is going to get this done for you. You have to be down there in the trenches."
With the acquisition of Juice Mobile from Yellow Pages in late 2018, Curate Mobile grew to over 40 employees and Porcelli felt like he'd overcome a huge milestone. "I was thinking the acquisition meant I could finally relax a bit and take my foot off the gas," he says.
But nothing could have been further from the truth.
One week into the new year, Curate Mobile's largest client significantly pulled-back on their media spend.
"We were heavily reliant on them financially and we lost the majority of their business," says Porcelli. "Despite all my due diligence prior to the acquisition of Juice, I didn't see it coming."
Curate was also realizing the challenge of merging staff and finding real estate in Toronto's competitive commercial market.
"I thought, 'I never want to be in this position again. I need help,'" says Porcelli. "We needed revenue diversification and people diversification."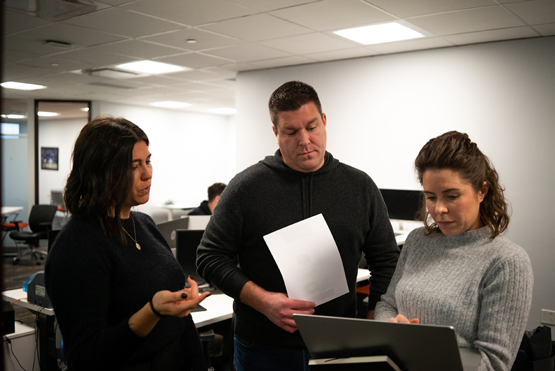 Building a trustworthy team
For the first time, Curate Mobile looked outside the company for management expertise, eventually hiring a president and a new executive team. Although he still works long hours as Curate Mobile's Chief Executive Officer, Porcelli has stepped back from other executive functions.
"I've learned not to be reliant on one key person. I have a highly-collaborative team, and I'm using all those skill sets to accelerate growth and take the company to the next level."
Porcelli also signed up for BDC's Growth Driver Program, a specialized advisory service working exclusively with mid-sized businesses that have strong growth potential and ambition.
"We're not a $100-million company today. But today, our aspirations are significantly higher and I can see clearly the path to get there," says Porcelli. "I've grown more confident as a business leader. I've learned how to use debt as a means to grow, and I question things a lot less than I used to, because I'm surrounded by experienced staff that's qualified, knowledgeable and very passionate."
In 2019, Curate Mobile was ranked the 33rd fastest-growing start-up in Canada by The Globe and Mail, with more than 1,550% growth over the last three years and Marc Porcelli was awarded as a finalist for Ernst & Young's Entrepreneur of the Year.
3 tips

to realize rapid growth
1. Mitigate risk by having a solid business plan
"Business is about taking calculated risks," says Porcelli.
In the first weeks of his business, Porcelli spent more than 12 hours daily scenario testing and assessing potential revenue streams for his company.
"I looked at projections and tax implications, different scenarios and financial outlooks."
By the time he launched his business, Porcelli was confident in his finances and his business model.
"I'm quite aggressive in terms of my forecasting, but conservative financially."
2. Look beyond venture capital for financing
When Porcelli realized his potential investors didn't meld with his vision for the company, he had to sit down and think about alternative ways to fund growth. With clients in place and a solid business plan, he approached BDC to get a business loan.
"I had to get comfortable with the idea of using debt to finance growth," says Porcelli. His company grew more than 1,000% in the first six months.
3. Surround yourself with the right people
Like many entrepreneurs, Porcelli performed all the executive functions in his business for the first few years. Although he still works long hours, he's learned to delegate and trust.
"You need to surround yourself with the most qualified people who can help you achieve your vision," says Porcelli. "Bringing on a business partner and then an additional business partner in the newly created role as president, who is overseeing growth of our middle management has been so much better. You can't take on everything all the time."