Early-stage

pharmaceutical research: A global player in Halifax,

Nova Scotia

How a small business in Atlantic Canada is making a big impact in the pharmaceutical industry

6-minute read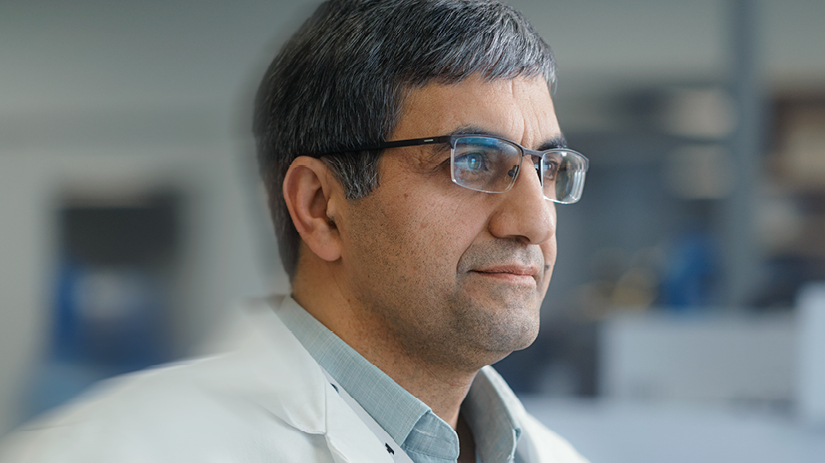 Mahmoud Mirmehrabi, Founder and President, Solid State Pharma
When Mahmoud Mirmehrabi was growing up in Iran, he followed with great interest how his father ran his own business in construction and land development.
"I grew up in a self-employed family. My father involved us in various aspects from a very young age. So I had in mind—even when I was an undergrad student— about someday starting a business," recalls Mirmehrabi.
He shared his dream with a university professor about someday starting his own business. This professor— who owned his own business—challenged him.
"You're very enthusiastic, but most probably you'll go bankrupt. I suggest you go and work for other companies, and contribute to them, and keep your eyes open on how HR operates, how the legal aspects are done, and how the administration is done," advised the professor.
"Someday, the right time for you to start your own company will arrive—and you will know when it's the right time."
Mirmehrabi eventually moved to Canada to work on his PhD in Chemical Engineering at Western University in London, Ontario. He worked for large biotech and pharmaceutical firms in Ottawa, Montreal and Boston before eventually moving to Halifax, Nova Scotia.
In 2014, Mirmehrabi decided that he had the experience and knowledge—and it was "the right time" to start his own research firm, Solid State Pharma.
"It was a dream to take my contributions to a different level, by starting a company like this," he says.
In the early days, "I was doing everything from the janitorial work all the way to the CEO's duties," he recalls with a laugh.
But it was worth it. Revenue soon was coming in from his work on technical consultation and helping with legal cases as an expert witness for innovative pharmaceutical companies.
"I already had the expertise and the network to start my own business. Of course, I took a massive risk," he reflects. "Things could have gone completely the other way."
Early-stage

research:

Life-saving

work

Today, Solid State Pharma has a team of 36 talented individuals, including 17 with PhDs. They help global pharmaceutical companies in the process of developing new drugs by conducting research on the solid state of the new drug substance that directly impact bioavailability and manufacturability of the drug. These research findings are part of the New Drug Application (NDA) to regulators, such as Health Canada and the Food and Drug Administration (FDA) in the U.S.

"We partner with hundreds of global pharmaceutical companies performing a critical part of the research for developing new drugs," explains Mirmehrabi.

Some drugs on the shelves at your neighborhood drug store may have been researched by Solid State Pharma. But most of the firm's work is in the early stages of development, and the drugs won't be in stores for several years.

"What we do is very deep science, and the contribution is significant. We're working on medications that a lot of people are eagerly waiting for, people touched by cancer, for example," says Mirmehrabi.
Financing his dream
After founding his business, one of the first challenges Mirmehrabi faced was paying for new equipment he wanted to purchase.
His own bank turned down his request for equipment loans.
He then briefly turned to venture capitalists, but they didn't like his business idea. "They said, 'forget it, this is not going to work,'" he remembers.
That's when he went to BDC and the Atlantic Canada Opportunities Agency (ACOA).
"I put together a business plan, and explained how promising this idea and business is. I said this would be an export company, with almost 100% of our revenue coming from outside Canada."
BDC provided the loan within three weeks of submitting the request—and the business took off.
Slow and steady growth
Mirmehrabi isn't in a rush to see his business grow. He prefers to see it grow organically and step by step.
"Let's just go slow, natural and sustainable. I got loans that I could potentially repay if something went down."
He also says with 36 employees, he has a responsibility to make sure his business will last.
"When you have employees on board, you have to think of their futures as well. They need to be able to plan their lives."
He says BDC has supported Solid State Pharma's steady, sustainable growth.
"The trust BDC had in us is extremely valuable. I'll always appreciate that BDC is there to help businesses. When we were paying back that first loan, they provided us with more loans to buy more equipment. So, a big part of our research instruments has been funded by BDC."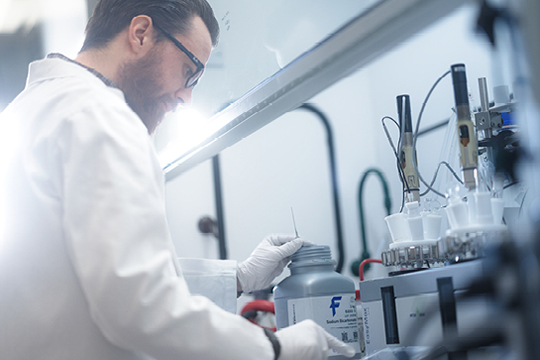 The good life in Halifax
Mirmehrabi says, "It's a misconception to think you need to be in Montreal or Toronto for this type of work. That may have been true in the past, but now it's a different story with modern logistics. We can get, and ship, supplies across North America very quickly."
Having lived in larger cities, he says there may be some advantages—for some companies.
"In a bigger city, you have access to a larger pool of talent. But our hiring was at a slower pace, by design, so we can bring the right people aboard—and also provide the right training."
He also says being in Halifax is attractive for people in Atlantic Canada who want to pursue their careers in the pharmaceutical industry while staying close to home. His firm has also hired people from other parts of Canada, as well as the U.S. and other countries.
As his company has grown, he has been able to add specialists in such areas as HR, accounting and business, leaving him more time to focus on the scientific and research end of the business. And that, after all, is what his business is all about.
"There are so many people who pray every day for some kind of treatment to be developed. I think what we do is extremely valuable—and that's what drives us to work every day."
Start your business
Learn key business concepts and discover what information to gather to write your business plan to start your business with our free eLearning course: How to start a business.