From refugee to business leader: How this entrepreneur built a small hospitality empire
Razia Suleman's business survived near-bankruptcy, a devastating flood and raging wildfires
5-minute read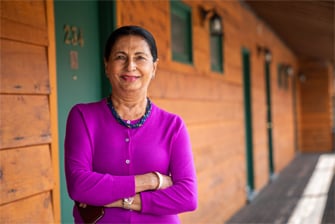 Razia Suleman has an unlikely background for a businesswoman. Her family fled unrest in India in the 1950s and settled in Uganda, only to be forced to flee again in 1972 due to more strife. They arrived in Canada as refugees, carrying only what they could fit in their luggage.
Most people would have been content to live a quiet life from there, but Suleman had big dreams to run her own business. She bought a hotel in the tiny, remote hamlet of Waterton Park in southern Alberta, despite having no hotel-management experience. Suleman's business survived near-bankruptcy, a devastating flood and raging wildfires that ravaged the region more than once.
She also overcame challenges as a woman entrepreneur of colour, a single mother and an outsider in a close-knit community where many businesses had been in the same family for generations.
"I think I was really out there to prove that a Muslim woman can do it," she says.
Today, Suleman's company has grown into a small empire of top-rated hotels and restaurants, all nestled amid towering Rocky Mountain peaks in the spectacular Waterton Lakes National Park. She employs more than 140 people.
She was nominated for an RBC and Women of Influence award and has been named Businesswoman of the Year by the Indo-Canadian Chamber of Commerce. She gives back through generous community work, including sponsoring girls to attend school in India.
Suleman attributes her success to her love of entrepreneurship and devotion to helping others. "My goal in life is really just to keep on helping people," she says. "My pride and joy right now is what I'm giving back."
Caught entrepreneurial bug early
Suleman was 17 when she caught the entrepreneurial bug. To help support her family, then living in difficult circumstances in Uganda, she got a job at a printing press.
Her deaf boss taught her "how to bargain, how to have work ethics, how to talk to people," she says. "This experience laid the foundation stone for my life." She also held a second job as a teacher and, by age 22, had opened her own Montessori school with 70 students.