From refugee to business leader: How this entrepreneur built a small hospitality empire
Razia Suleman's business survived near-bankruptcy, a devastating flood and raging wildfires
5-minute read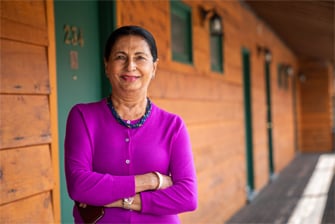 Razia Suleman has an unlikely background for a businesswoman. Her family fled unrest in India in the 1950s and settled in Uganda, only to be forced to flee again in 1972 due to more strife. They arrived in Canada as refugees, carrying only what they could fit in their luggage.
Most people would have been content to live a quiet life from there, but Suleman had big dreams to run her own business. She bought a hotel in the tiny, remote hamlet of Waterton Park in southern Alberta, despite having no hotel-management experience. Suleman's business survived near-bankruptcy, a devastating flood and raging wildfires that ravaged the region more than once.
She also overcame challenges as a woman entrepreneur of colour, a single mother and an outsider in a close-knit community where many businesses had been in the same family for generations.
"I think I was really out there to prove that a Muslim woman can do it," she says.
Today, Suleman's company has grown into a small empire of top-rated hotels and restaurants, all nestled amid towering Rocky Mountain peaks in the spectacular Waterton Lakes National Park. She employs more than 140 people.
She was nominated for an RBC and Women of Influence award and has been named Businesswoman of the Year by the Indo-Canadian Chamber of Commerce. She gives back through generous community work, including sponsoring girls to attend school in India.
Suleman attributes her success to her love of entrepreneurship and devotion to helping others. "My goal in life is really just to keep on helping people," she says. "My pride and joy right now is what I'm giving back."
Caught entrepreneurial bug early
Suleman was 17 when she caught the entrepreneurial bug. To help support her family, then living in difficult circumstances in Uganda, she got a job at a printing press.
Her deaf boss taught her "how to bargain, how to have work ethics, how to talk to people," she says. "This experience laid the foundation stone for my life." She also held a second job as a teacher and, by age 22, had opened her own Montessori school with 70 students.
I think I was really out there to prove that a Muslim woman can do it.
After arriving in Vancouver in the 1970s, Suleman worked at BC Research as a cost administrator, but yearned to have her own business again. In 1991, she bought the Bayshore Inn in Waterton, in the heart of the national park, with her brother and brother-in-law as minority partners.
"It was a big risk," she says. "God knows which direction I was going. I didn't even know."
Movie production saved business
The 70-room hotel was blessed with a prime location on the shore of beautiful Waterton Lake. But the business almost failed the first year as Suleman struggled with high interest rates on her mortgage. Suleman got through it by not drawing a paycheque for six months and living off savings and the proceeds of selling some of her jewelry.
Her son Shameer, who was 17, pitched in by getting a job while attending school. An understanding banker also agreed to temporarily reduce mortgage repayments.
The business finally turned around the next year thanks to a chance Hollywood movie production that rented Suleman's hotel for filming for an entire winter. Suleman then managed to renegotiate her mortgage and won another life-saving contract for commercials to be filmed in the hotel. Suleman also persevered through a flood in 1995 that left the first floor of the hotel under 1.5 metres of water.
Before long, she built a second hotel just up the street, Waterton Glacier Suites, with the help of BDC financing, and later opened several restaurants that are among the area's highest rated. Revenue has doubled in the past 10 years, and Suleman's company, Mani Krupa Inns & Resorts, now owns two hotels, four restaurants and a spa.
Caring about others
Retaining her employees has been Suleman's latest challenge. Waterton has a chronic labour shortage because of its remoteness and expensive housing. Yet, Suleman boasts an impressive 60% retention rate from year to year (she closes some of her establishments in winter, like most other businesses in town). Some employees have stuck with her for 27 years since she bought the first hotel.
Her secret: Caring for employees like family. "The trick is to make sure they are happy, make sure you go beyond treating employees as just part of your business," she says.
Today, her son Shameer handles much of the daily business as an owner. He also serves as Vice President of the Waterton Park Chamber of Commerce.
Meanwhile, Suleman is devoting even more of her energy to helping others. She spends the winter months in India leading a charity, Our Journey, which focuses on educating children and helping impoverished communities. The group's work has allowed 150 children to attend school.
"I think I've found more happiness by doing this," Suleman says. "It's a huge joy."
2 tips to build up your business from Razia Suleman
1. Take care of your employees
It's a cliché, but employees are a business's most valuable resource. Suleman says she takes a lot of time to create connections with the people who work for her and learn who they are. She also says it's important to provide employees with flexibility and see how she can help them meet their needs.
2. Build bridges with the community
As a new arrival in a small town, Razia Suleman had to build bridges to her local community. She advices other entrepreneurs in a similar situation to open up to others and tell their story.
"You really have to have other people understand you first and know where you're coming from and who you are," she says. "You have to make a first move… Let them learn who you are without them making their own judgements and assumptions."
"I just wanted to build bridges. It took a long time but even if someone doesn't meet halfway, I am ready to cross all the way to bridge the gap"