How outside advice helped propel this business to the next level
Executive coaching helped this entrepreneurial couple sustain their company's blistering growth
5-minute read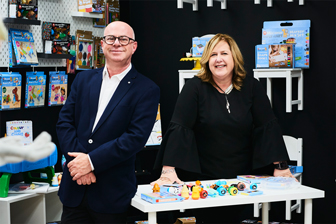 Boris and Tammy Zilberberg were grappling with a problem many business owners would envy. Their wholesale children's products business Kidcentral Supply was growing so quickly they were struggling to keep up.
"It felt like we were the conductors of a runaway train, going at full speed, and it was hard to gain control of it," Boris says.
Sales were growing at an astonishing pace, jumping 10-fold in the previous decade. But the growth was so fast, it was creating its own challenges. The Zilberbergs had to say no to several large new retail opportunities because they weren't sure they could fulfill the extra orders.
"It's not that we didn't want to sell to them," Tammy says. "We wanted to be sure we could fulfill the orders, and we weren't ready for that." Yet, new customers were vital if Kidcentral was to sustain its blistering growth.
"A light bulb went off"
Boris and Tammy came up with a solution—arranging management training for key personnel. They turned for help to BDC, where they had previously obtained cash flow financing.
At BDC, the Zilberbergs connected with a team of experts from the Growth Driver Program, a specialized advisory service working exclusively with mid-sized businesses that have strong growth potential and ambition.
With the help of their BDC executive advisor, Dan Johnstone, the couple quickly had an important revelation that changed the course of their business. "We realized it wasn't just our managers who needed training," Tammy says. "We did, too."
"A light bulb went off," Boris says. "It takes a bit of humility to know you need help. We realized we needed more expertise to take our company to the next level."
Training paid off
The revelation led the pair to embark on a three-year journey with the Growth Driver Program to obtain CEO coaching, skills training for themselves and their team, and advice on how to sustain their exponential growth.
Tammy and Boris are still only partway through the consulting engagement, but the investment has already paid off in multiple ways. Johnstone started by helping the Zilberbergs and their team create a strategic business plan for Kidcentral and a roadmap to achieve it.
"He looked at our business from an outside observer's perspective," Boris says. "It was definitely an eye-opening experience. When you're in the business, it's hard to look at it from an independent point of view."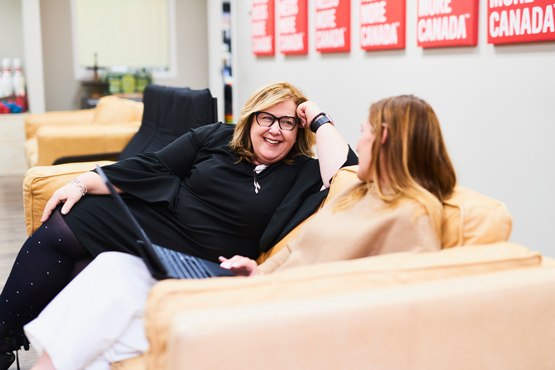 Developed better management practices
Johnstone also helped them develop key performance indicators to monitor and improve operations. "We're learning a lot about our business and seeing numbers and ratios we never thought to analyze," Boris says. "We get daily reports on our indicators and can see where the deficiencies are right away."
The Zilberbergs also got input on the company's organizational structure and human resources gaps. The advice proved timely as Kidcentral was hiring at a rapid pace, with the number of employees doubling from 18 to 35 in the past 18 months.
Laid foundation for exponential growth
In addition, Boris and Tammy were able to achieve their original goal of improving their team's management skills. This allowed managers to increase their responsibility for day-to-day operations, freeing Tammy and Boris to focus on big-picture opportunities that will let the business sustain its remarkable growth.
As a result, since engaging BDC, the pair has developed two new businesses—a luxury children's brand in the UK called Potwells and a family-products brand in partnership with Cheryl Hickey, host of Entertainment Tonight Canada.
The expert advice has also laid the foundation for Kidcentral's most ambitious growth project so far: Expansion to the U.S. and U.K. For their U.S. operation alone, the Zilberbergs foresee hiring 100 employees in the next two years—nearly three times their existing Canadian workforce. "The growth potential is staggering," Boris says.
Getting outside advice was humbling, but Boris and Tammy agree it was key for taking Kidcentral to a new stage of growth. "It helped us think outside the box," Tammy says. "It allowed us to look at opportunities we wouldn't have looked at before, and it gave us the ability to take advantage of them."
3 ways

coaching can help your business
1. Thinking strategically
Coaching can encourage you to step outside the daily hubbub of your business and focus more on the big picture. An outside expert can answer your questions about where your business should go in coming years and what you need to do to get there.
"We pick his brains a lot," says Kidcentral's Boris Zilberberg of their advisor. "We need help, and we aren't shy to ask for it."
2. Improving your skills
Business owners can get advice to improve their leadership, managerial and technical skills. Learning new ways to foster innovation, create a culture of change and inspire employees can be transformative for your company.
3. Accelerate your growth
An outside expert can help you increase your team's capacity and find ways to accelerate growth. These may include developing a business plan and KPIs, improving efficiency, and identifying training and hiring needs.