Meet the Canadian innovators behind construction's digital coming of age
Construction may be a relative latecomer to digitization, but innovative Canadian tech companies are quickly redefining how the industry works.
9-minute read
While construction continues to boom in Canada and around the world, it has faced several challenges in recent years. Labour shortages, rising costs and interest rates, along with supply chain issues have put strains on the sector.
That has been spurring many construction firms to seek ways of working smarter instead of harder—and driving them toward digital solutions.
They have good reasons for doing so. A 2022 study by BDC found that digitally mature companies were more likely to grow rapidly, export and obtain financing. Despite these advantages, only one in 20 SMEs uses digital technologies effectively.
However, Canadian companies are at the forefront of a wave of innovation in the sector, bringing solutions that cover the full spectrum of the construction process from planning to resourcing to on-site execution.
Making it simple to staff up a job
Toronto's Bridgit has been one of the Globe and Mail's top-growing companies for the past three years. Founders Mallorie Brodie and Lauren Lake have deep roots in construction: Brodie's family ran a steel fabrication and demolition business, while Lake's grandfather ran a specialty subcontractor.
Deciding that they'd seen enough of workforce management 'systems' cobbled together from Excel spreadsheets and whiteboards, they created Bridgit Bench, a cloud-based platform that uses data from previous projects to give contractors a more accurate view of their upcoming labour needs.
In addition to making workforce planning more precise, Bridgit Bench gives construction companies the ability to fine-tune their teams to the specific requirements of each job, and lets them filter profiles to match skills to project needs.
The solution also serves as a recruitment and retention tool for companies in a talent-competitive industry. Those whose worker profiles indicate a preference for certain types of projects, or who are looking for minimal commute time, can be matched to jobs that suit them—which can keep them coming back.
"That general contractors can promise to keep an eye on someone's professional experience, and can look out for opportunities that fit their career plans, is compelling for individuals looking to join a new contractor," says Brodie.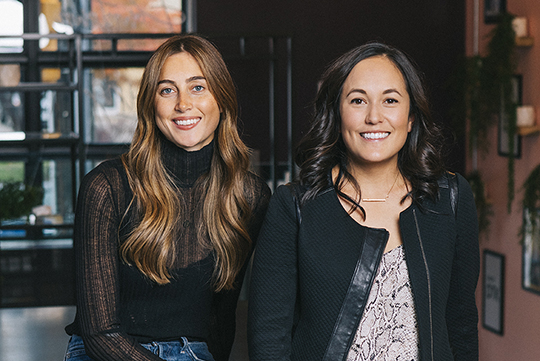 Bridgit's Mallorie Brodie, CEO and Co-Founder, and Lauren Lake, COO and Co-Founder.
A lightweight way to locate heavy equipment
Like Brodie and Lake, Kevin Forestell's construction business tech idea came from real-world experience. Operating alone out of his parents' minivan, with the back seat removed to make room for a wheelbarrow, Forestell built up a landscape construction company in Guelph. Within 10 years, the business had grown to more than 400 employees and 200 pieces of heavy equipment. He did landscape work in the summer and snow removal in the winter.
"We noticed that some of our equipment was only being used five or seven months a year," Forestell says. "The rest of the time it was sitting idle."
That led Kevin Forestell and co-founders Tim Forestell and Erin Stephenson to create DOZR, an online platform that connects contractors to the heavy equipment they need for specific jobs—as close as possible to their job sites. Today with more than 30,000 vendors enrolled, DOZR functions almost like a travel booking aggregator, listing all the available suppliers of a given type of equipment in a particular area.
The benefits are twofold: equipment owners, including some of the biggest names in rentals, are able to optimize and monetize the use of their assets, while construction companies get more convenient access to the machinery they need.
"Construction is booming, the reno market is exploding, and with supply chain challenges, it's really hard today to buy new equipment," says Forestell. "It can take more than a year to get a new excavator. People are shifting toward rentals, and our platform helps maximize the rental supply."
DOZR co-founders Erin Stephenson, Kevin Forestell and Tim Forestell. (Photo courtesy of DOZR)
Investors are responding to the potential
The digitally disruptive solutions of both companies have captured the imagination of venture capital investors, including BDC Capital and a who's who of big-name U.S. firms. Bridgit's $24 million Series B round was co-led by Camber Creek and Storm Ventures. DOZR attracted $27.5 million in Series B funding from investors, including Builder's VC in Silicon Valley.
These Canadian companies are disruptive in another way, too. Both are co-founded and co-led by women in a traditionally male-dominated industry.
Bridgit's Mallorie Brodie made the Top 40 under 40 in Canadian Construction, while Lake was named in the Best of Canada Forbes Under 30 Innovators list as well as Forbes Manufacturing & Industry 30 Under 30 and the TechWeek 100.
DOZR co-founder and COO Erin Stephenson won the Ontario regional award for Startup Canada Woman Entrepreneur of the Year.
The industry is on the cusp of all kinds of change.
Canadian innovators are well positioned to capitalize on that wave of change, according to Jack Fraser, Partner, Growth Venture Co-investment Fund at BDC.
"There is so much talent in Canada, and so much interest among investors to bring new digital solutions to this market," Fraser says. "We have an opportunity to do this now, and we need to grab hold of it. We at BDC are excited to partner with companies like Bridgit and DOZR and help bring Canadian innovation to the construction sector."
Learn more about how BDC is investing in innovative Canadian companies.