5 steps

to prepare your business for future disruption

Follow these five steps to make your business change-ready

4-minute read

Adapting to change can be a big challenge for many businesses. But as disruptive transformations turn many industries upside down, adaptability is increasingly important for entrepreneurs.

"Change is the only constant in the business world," says Mike Ross, founder of the consulting firm Juniper. "Radical technologies are changing the way we do our work at a pace unseen before. We don't overcome change by being stronger or smarter than our competitors, but by being better able to adapt to it."

Ross says businesses can follow these five steps to ready themselves for future disruption.
1. Recognize the value of adaptability
First, recognize the importance of making your business more adaptable. "If you relax and say everything is fine, you're in danger," Ross says.
Even businesses that keep an eye out for future potential disruptions can be sideswiped if they're not able to adapt. "We can't predict what the disruptive events will be, but we can create organizations that can not only survive these events, but thrive," Ross says.
2. Identify potential disruptors
With your team's input, create a watchlist of potential disruptive changes. Ross suggests categorizing the changes into four groups based on whether they will have a high or low impact on your business and whether the chance of them occurring is high or low. He calls this your company's "change matrix."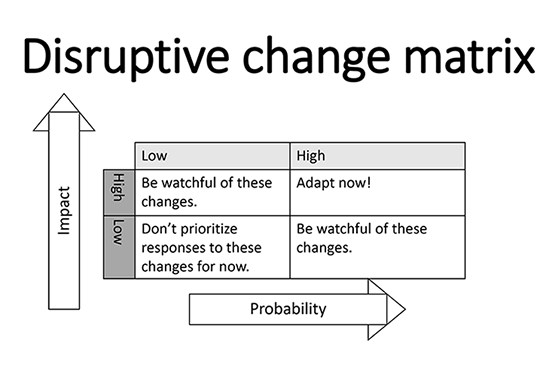 Be sure to regularly update your change matrix, especially as new technologies emerge.
3. Create an
early-warning

system

Next, write out a few details about each of the changes in the "Be watchful" category:
Consequences of the change for your business.
How you will know it's time to adapt to the change. For example, it could be when your competitors start to adopt a new technology.
Your early detection system to act. This can include reading trade publications and attending learning activities, business conferences and trade shows.
What you should do now to get ready. Identify small steps you can take now that don't require a lot of time and resources, but that will help you respond when you need to adapt. You can get inspiration for action by researching what other industries have done in similar situations.
4. Prepare a change plan
For every change you want to make in your business, you can further break down the process into four parts. Ross cites a framework from McKinsey & Company called the "four building blocks of change." He says entrepreneurs can write down actions you can take in each area.
Foster understanding and conviction. The change has to be clearly understood by your team and make sense to them. Without compelling reasons, it's much harder to get the

buy-in

needed for the change and to implement it successfully.
Impart the skills or tools to make the change. This is especially important for overcoming potential resistance from older employees who may be fearful of being left behind by changes.
Reinforce the change with formal mechanisms. For example, to encourage innovation, you can create a process to generate ideas from employees. Also, be sure to reward not only successful results, but also ideas that lead to learning and

risk-taking

.

Role-model

the change. People need to see change being done throughout the organization, especially among leadership.
5. Start small. Tolerate failure. Learn.
To get the ball rolling on change, undertake low-cost initiatives that are easy to implement now. It's vital to accept that some ideas will fail.
"You have to show the organization that you're willing to tolerate failed projects because that's how you learn the skills necessary to eventually win," Ross says. "Without failures you won't get success."
This article was written following Mike Ross's discussion with CEOs participating in the BDC CEO Excellence Retreat at an exclusive meet-and-greet session at C2 Montréal.