Bringing two worlds together is this Indigenous entrepreneur's mission in life
From selling sports gear to consulting,
Kendal Netmaker
is a serial entrepreneur with a higher calling
9-minute read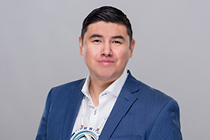 When Kendal Netmaker started his first business in 2011, the then 23-year-old entrepreneur saw retailing sports clothing as a way of connecting with Indigenous youth and putting them on the path to success.
Ten years later, the founder and CEO of Neechie Gear and Netmaker Enterprises Corp. sees his business as educating people about Indigenous values and culture. In fact, it's more than a business; it's his mission in life.
"I was meant to do this," says Netmaker. "I was given this path by the Creator, as we would say in our culture."
A chance conversation that opened doors
Netmaker has come a long way from a reserve of the Sweetgrass First Nation, near North Battleford, Saskatchewan, where he and his three sisters were raised in a single-parent household. Money was scarce and opportunities scarcer.
When Netmaker was in Grade 5, his friend Johan asked why he wasn't involved in sports, and the 10-year-old Netmaker replied that his family couldn't afford the cost of registration, transportation and equipment. When Johan told his father, a doctor from South Africa, he paid for Netmaker's registration fees and gave his mother a vehicle to drive Kendal and his sisters to and from practices and games.
This not-so-random act of kindness from his childhood friend became the inspiration for Netmaker's first foray into the business world. He has since strived to open up more opportunities for other Indigenous young people.
As a sports scholarship student at the University of Saskatchewan in Saskatoon, Netmaker entered a business plan competition organized by Brett Wilson of CBC's Dragons' Den. He won $10,000, which he used to develop a line of T-shirts to sell at sporting and other events. That's when Neechie Gear was born.
Prize-winnings from another business competition enabled him to expand his venture from a small office to 500 square feet of retail space in Saskatoon. He put in 15-hour days, selling T-shirts, hoodies and sports gear.
Neechie is Plains Cree slang for friend—Netmaker's way of honouring his friend's generous gift and paying it forward to Indigenous athletes.
Giving back to the youth
As part of his business model, Netmaker gives back 10% of his profits from Neechie Gear sales to Indigenous youth through scholarships and bursaries.
"It started with Neechie Gear. We gave 10% of our profits from our apparel sales to do that. Then, we created our own non-profit, which became the IndigiFund that supports sports, education, culture for Indigenous youth in the country."
Over the past 10 years, Netmaker has donated money to several thousands of Indigenous youth. "I wouldn't be here without many helping hands throughout my life. I acknowledge that in everything I do, and I try to do good through my business.''
As his business grew, Netmaker attracted the attention of national and international business awards programs. He's won numerous business competitions and awards, including the 2015 Young Aboriginal Entrepreneur of the Year from the Canadian Council for Aboriginal Business, the 2015 Indspire award for Young Entrepreneur (First Nations), and was a finalist for the 2015 Youth Business International Entrepreneur of the Year award in Dubai.
Pivoting to
e-commerce

and public speaking

As sales increased, Neechie Gear expanded from a single storefront to several locations. But two years ago, Netmaker decided to close Neechie Gear's retail outlets and "start focusing on e-commerce and distributing and doing custom orders.''

"Two years ago, we were focused on retail, and now we're focused 100% online (sales) and distributing. So we flipped the [business] model right before COVID happened — thankfully, because it would have been a stressful time."

It was a fortuitous decision after the COVID-19 pandemic made in-person shopping difficult. After the pandemic began, Netmaker cut down on travelling and working outside the home to spend more time at home with his family.

His new free time also allowed him to focus on another growing side of the business — public speaking through Netmaker Enterprises Corp., which he formed in 2015. When he was touring the country promoting Neechie Gear, Netmaker found himself doing more and more public speaking engagements.

"Speaking has become the major source of revenue for myself. That's how I've paid for my expenses. In the beginning, with Neechie Gear, I was already speaking to try to sell T-shirts. It evolved over time to become a business.''
Spreading Indigenous values
Netmaker has moved from in-store to online sales and changed his business focus from retailing to public speaking, but that's not the end of evolution as an entrepreneur. Netmaker said his speaking gigs have led to another new business — consulting.
"One of the things that's happening is people are starting to request Indigenous content in their workplaces and at events."
Netmaker launched a new brand in August 2021 called IndigenousConsulting.com. He offers training sessions in Indigenous awareness, cultural competency, relations and engagement, including how to hire and how to work with Indigenous people.
Netmaker says the Canadian education system failed to teach us about the value of Indigenous people and their culture and values. He wants to change that.
"The world needs to start to hear more about Indigenous values. We need to start looking at how Indigenous people sustained our continents for literally thousands of years,'' he says.
Netmaker also says that Western culture, with its ever-expanding economic growth and ever-increasing consumption of non-renewable resources, has led to man-made climate change and environmental degradation of the land, water and air.
"We need to focus on renewability because that's sustainable. We make a lot of things that are for one-time use. That's old school. That's destroyed a lot of things and it continues to do that."
Indigenous Consulting represents the next step in the evolution of Netmaker's business, from selling T-shirts to becoming a spokesperson for Indigenous culture and values. And as recent events have shown, it's the right time for that message to be heard.
"We're at a time where we can heal. It's a critical time," says Netmaker.
Fueling growth
Netmaker credits BDC for helping him make the transition from retailing sports gear to expanding his public speaking and consulting businesses.
"I got a loan in 2018 through BDC and it helped to fuel my growth plan in the speaking field. I had to start hiring coaches in the speaking area. I got mentorship, programs, books, all that type of stuff. I had to train myself to do this professionally."
With BDC's help, Netmaker is transforming his business and his life. His goal is to bring two worlds, two cultures and two peoples together.
"It's a higher-purpose mission," he says. "It's a feeling that I can't explain, but it aligns with my belief in a higher power, the Creator, and the energy that's associated with that. If you follow that, it will open doors for you and take you to places where you're meant to go.''